Charges dismissed against officers in Freddie Gray death
7/29/2016, 5:28 p.m.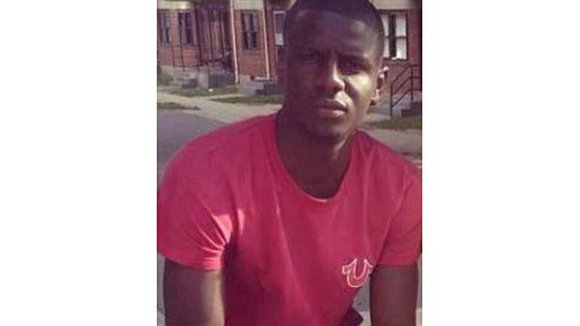 Free Press wire reports
BALTIMORE
None of the six Baltimore police officers accused in the death of Freddie Gray will end up behind bars.
Wednesday, Baltimore's top prosecutor, Marilyn J. Mosby, who had vowed to hold the officers accountable, dropped all charges against the three remaining Baltimore police officers facing trial in connection with Mr. Gray's death.

Mr. Gray, 25, died April 12, 2015, after sustaining a broken neck while being driven in a police van. His crime: Running from police in a neighborhood labeled high crime.
His death became a symbol of the black community's mistrust of police and triggered days of protests and riots. The city became a focal point of the Black Lives Matter movement and the nationwide debate on excessive police force.
But after losing several initial cases, Baltimore State's Attorney Mosby threw in the towel. Her chief deputy, Michael Schatzow, came to the court to seek dismissal of the outstanding charges, which was granted.
The request came ahead of Wednesday's scheduled pretrial hearing for Officer Garrett Miller.
Trials for Officers Alicia White and William Porter had been scheduled for the fall. Officer Porter was facing a second trial. He was the first officer to be tried, and the case ended in a mistrial in December when the jury could not reach a verdict.
Three other officers have been acquitted in bench trials before Baltimore judges: Edward Nero, a bike officer involved in the initial police encounter with Mr. Gray; Caesar Goodson, who drove the van that transported Mr. Gray following his arrest; and Lt. Brian Rice, the highest ranking officer charged in connection with Mr. Gray's death.
Despite the failure of the criminal cases, Mr. Gray's death led to a U.S. Justice Department probe of Baltimore's policing practices and the introduction of new policies aimed at improving police-community relations.
The changes have been ushered in with the goal of ending the misuse of police authority, which resulted in the city paying out more than $6 million over a three-year period to settle dozens of claims from civilians who were allegedly injured because of officer misconduct.
Meanwhile, the Gray family last year received a payment of $6.4 million from the city as a settlement of the legal claims against Baltimore and its police department.