Harriet's Place tea ministry opens in Washington Park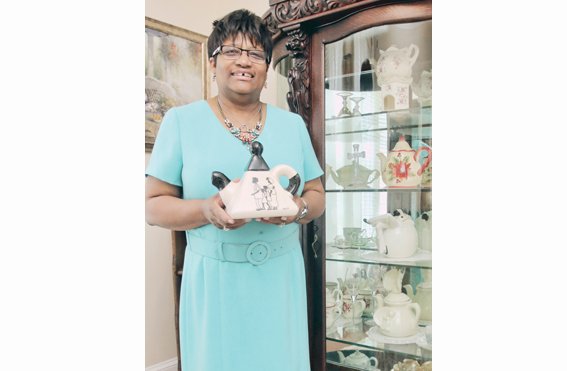 More than 100 colorful teapots of all shapes and sizes fill the idyllic home in the historic Washington Park community on North Side.
They will serve as the centerpiece for Scripture Tea Fellowship Ministries, whose mission is to "provide spiritual, social, educational and economic empowerment in a safe place of refuge and relaxation over a cup of tea and the word of God," according to the Rev. Jeanette Brown, the ministry's founder.
"Sometimes, it's hard to get people to go to church, but it might be easier to get them to sit down for conversations over tea," she said.
The ministry is based in a newly renovated home owned by her family.
It is named Harriet's Place in honor of her grandmother, the late Harriett Winston Carter, who died Dec. 21, 2013, at age 104.
A longtime member of St. John Baptist Church on North Side, Mrs. Carter was recognized as a centenarian by President Obama and Mayor Dwight C. Jones.
Rev. Brown said the teas will provide a setting to discuss scriptures and other spiritual matters, and for prayer meetings, Bible studies, mentoring, teaching and reading groups, baking and cooking lessons, a clothes closet and food pantry.
Rev. Brown is an associate minister at Westwood Baptist Church on Glenburnie Road. She said she was inspired in 2000 to start such a ministry.
"I was sleeping and the Lord woke me up and gave me a vision for a scripture tea fellowship," she said.
Since then, she has retired from the Environmental Protection Agency, where she worked for 20 years, and split time between a Maryland home and one in Richmond.
Rev. Brown and others began renovations to her late grandmother's Washington Park home in December 2014. They repainted it and installed new pipes, heating, air conditioning and plumbing.
Rev. Brown, 57, opened Harriet's Place to the public for the first time late last month when more than 70 women from the community and from Washington, Maryland and North Carolina attended an open house.
She said she uses biblical teachings from Titus chapter 2, verses 3 through 5 as a guiding principle for the ministry. It urges women to live reverent lives and pass along those lessons to younger women.
Rev. Brown said her ministry will focus on attracting women and girls, but will be open to men and boys as well.
She said the home will host groups, including church groups, book clubs, social organizations and birthday parties.
She said people will be encouraged to have conversations over tea and other refreshments and discuss their spiritual, emotional and material needs and other life issues.
"This will be a safe haven for people," she said.
Rev. Brown hopes to gain nonprofit status for the ministry, but for now she relies on her own finances and donations to fund her efforts.
For more information, contact Rev. Brown: jbrown2009@comcast.net or (301) 806-6890.