VSU commencement
Building a better world is more than a motto
Joey Matthews | 5/8/2015, 11:42 a.m. | Updated on 5/8/2015, 11:42 a.m.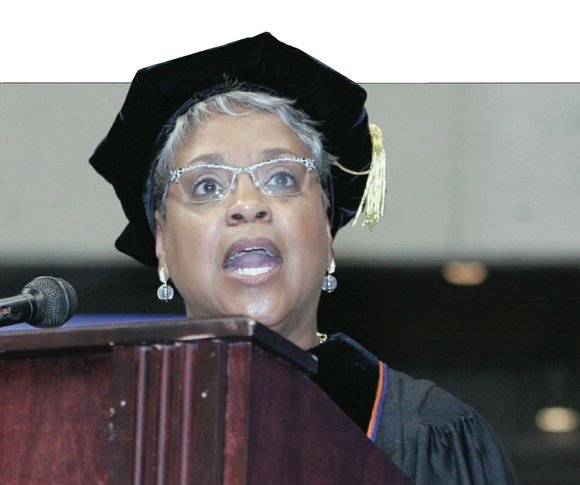 Virginia State University ended a tumultuous school year with a victorious exclamation mark at commencement Saturday at the Richmond Coliseum.
More than 10,000 proud and beaming parents, friends and university members saluted as a record number of students — 764 — graduated.
That figure includes a record 16 doctoral students and 133 who earned master's degrees.
Interim VSU President Pamela V. Hammond, who replaced former President Keith T. Miller at the start of 2015 amid a budgetary crisis, introduced commencement speaker Judge Cressondra Brown Conyers, VSU Class of 1977.
Judge Conyers serves on the juvenile and domestic relations district court for Gloucester, Mathews and Middlesex counties, the 9th judicial circuit. A former prosecutor, she is the first African-American female judge in the Middle Peninsula.
With her husband, Anthony Conyers Jr., former commissioner of the Virginia Department of Social Services looking on, she told graduates to be proud of their achievement and charged them to be world changers.
"There is a perception — an erroneous one — that HBCUs are academically inferior to predominately white institutions," said Judge Conyers, who also was the first African-American president of the Williamsburg Bar Association. "Nothing could be further from the truth.
"It is a perception that you, as graduates of this fine university, have a responsibility to not just change, but to shatter by continuing on the path to success and excellence that you are commencing today by serving the public and helping others to succeed."
She told the graduates that VSU has prepared them for all possibilities.
"So it is important that you remember that building a better world is more than just a motto. It is a responsibility that every Virginia State University graduate has every day, everywhere in the world.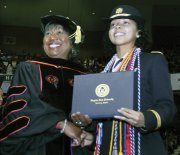 "We need you to help build a better world in Baltimore, Md. We need you to help build a better world in Ferguson, Mo., in Charleston, S.C.," she said, referring to communities rocked by incidents of slayings of unarmed black men by police officers. "You are needed everywhere in this world."
Judge Conyers was awarded an honorary degree during the ceremony.
Hyisheem Calier, president of the VSU Student Government Association, told his fellow graduates that he was the first from his family to earn a college degree.
"I accomplished something that people from my neighborhood never dreamed I could accomplish," he said.
He recalled the first time he rode on the Greyhound bus from his hometown of New York City to the Ettrick campus with trepidation.
Speaking with eloquence and confidence, he said, "It's amazing how seven long hours on the bus can turn into four unforgettable years.
"We are the vessels that will inspire change," he said, urging his fellow graduates to help pull others forward to "new beginnings."
Vernell Battle-Kilpatrick of Virginia Beach was honored as national Alumna of the Year.
Dr. Hammond also paid tribute to the "Golden Reunion Class of 1965." Sixteen members were in attendance.