The road back
Stroke survivor counts blessings
Joey Matthews | 5/29/2015, 6:36 a.m. | Updated on 5/29/2015, 11:03 a.m.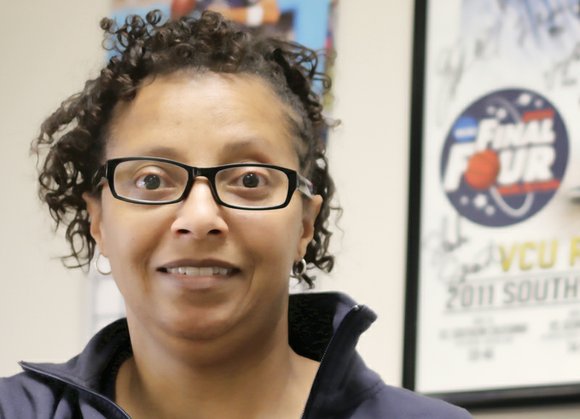 DeTrease Harrison never considered herself to be a candidate for stroke.
"I thought only old people had strokes," the 45-year-old South Side resident said.
Ms. Harrison suffered a debilitating stroke on May 15, 2014, in her home.
"It happened during my sleep," she recalled. "I was not aware of it."
"I got up to take a shower the next morning before work and fell. My mom called. I told her I had fallen and couldn't get up. She said, 'Don't move. I'll be right there.' Instead, she dialed 911 and the paramedics broke into my house to save me."
Ms. Harrison spoke with a Free Press reporter last week about her experience and recovery as National Stroke Awareness Month winds down. The interview was held in her office at the Department of Athletics at Virginia Commonwealth University, where she has worked as assistant athletic director for business since 1994.
Her workspace has been adapted to mitigate the paralysis that affects her left arm and hand. She also suffers from short-term memory loss and struggles to maintain her focus.
"I've learned it can happen to anyone at any age," Ms. Harrison said of her stroke. "I had none of the usual risk factors."
Ms. Harrison was rushed by ambulance to VCU Medical Center in Downtown, where she underwent surgery to remove a blood clot in her brain.

"My stroke was from a congenital heart defect that I didn't know I had," Ms. Harrison said she later learned.
Dr. Yvette Johnson-Threat, chief medical officer at Bon Secours Richmond Community Hospital in Church Hill and Memorial Regional Medical Center in Hanover County, said the warning signs of stroke can be remembered using the acronym FAST — Facial drop, Arm weakness and Speech difficulty means that Time is crucial.
"If you have symptoms and warning signs, every minute counts," stressed Dr. Johnson-Threat.
She said she has worked with hundreds of stroke victims as a physician for more than 20 years. "If you know what the symptoms are, you know you should be activating 911," she said. "Every minute that you lose, you diminish your chance of having a good outcome.
"If you don't wait, you have the opportunity to get medicine that will restore the blood flow in the brain that's blocked by a clot. You have to get care in a certain amount of time."
According to the American Stroke Association, African-Americans are impacted more by stroke — the No. 3 cause of death in the United States — than any others and are more likely to suffer a stroke at a younger age.
Dr. Johnson-Threat said the risk is higher because "two out of every five African-Americans have high blood pressure, one out of every five African-Americans smoke cigarettes" and because of "high-sodium diets and high cholesterol."
When Ms. Harrison was discharged from VCU Medical Center on July 2, she went to live with her mother, Gale Lewis, in Amelia County, as her recovery continued. Her mother cooked her meals and cleaned for her.
She said former VCU basketball Coach Shaka Smart, now at the University of Texas, was among those who visited her in the hospital to help buoy her spirits.
Coach Smart also had two players from the Dallas Cowboys — her favorite NFL team — to provide supportive messages in early December when she underwent surgery at VCU Medical Center to repair her heart defect known as a patent foramen ovale, or a hole in the heart.
Cowboys star tight end Jason Witten texted her, "Don't worry about the surgery. Stay strong. Adversity makes you stronger."
"Get well soon," tweeted star wide receiver Dez Bryant, another All-Pro Dallas player.
Even with a multitude of caring family and friends pitching in to help, Ms. Harrison's climb back has been long and slow.
"I've been surrounded by good people," she said. "Everyone's been supportive and encouraging."
She returned to her own home in late December, six months after her stroke. Her home now is equipped with handrails to help her get around. She said she no longer cooks or cleans because of the paralysis and pops easy-to-prepare meals in her microwave oven.
More than seven months after the stroke, she returned to work at VCU on Jan 6. Her accrued sick leave covered her absence.
"I believe in surrounding myself with motivated people, and for me, it's my folks at work. They all have helped me. My friends never asked me, 'Are you coming back to work?' They asked me, 'When are you coming back to work?' ''
When she returned, VCU officials had the computer in her office equipped with talk-to-text software that enables her to speak into a headset and dictate the words onto her computer screen to more easily communicate with others.
She was unable to drive at first, so Carletta Wilson, office manager in the athletics finance department, drove Ms. Harrison to work each day and Ahsaki Black, the business office coordinator, drove her home each afternoon.
Ms. Harrison began driving again May 12. She said she was required to take a test at Johnston-Willis Hospital in Chesterfield County to determine if she could drive again.
Her car was fitted with equipment so she could turn the steering wheel with one hand and also work the turn signal.
Ms. Harrison said she writes lots of notes to remind her of things because of her short-term memory struggles.
"It just takes a little longer to get things done," she said.
She said she never doubted she would return to work.
"I wanted to work again because I love it and I've always had a strong work ethic," she said.
Meanwhile, Drs. William Walker and Richard Kunz have overseen much of her care in the Department of Physical Medicine & Rehabilitation at VCU Medical Center, she said.
She attends physical and occupational therapy twice a week at Sheltering Arms Hospital rehabilitation center in Richmond and works on balance, walking and other movements.
She describes her recovery as "day to day." She said doctors have told her she may regain the use of her left arm and hand, but that some stroke victims never fully regain what they've lost.
Thanks to good insurance coverage, she said she has not been financially crushed by the stroke.
"My $277,000 hospital stay cost me a $300 deductible," she said. "Outside of that, I've probably spent another $5,000 on accommodations, co-pays and medicine."
Because of her experience, she encourages others to know the signs of stroke. "It can happen to anyone," she said.
She said she now limits stress as much as possible. She said she now works about 30 hours a week, instead of 60 hours a week as she did previously.
And she is planning a vacation to the Dominican Republic.
"I feel very fortunate," she said. "A lot of people are worse off than I am. I count all my blessings."