Heartwarming return for Albert Hill coach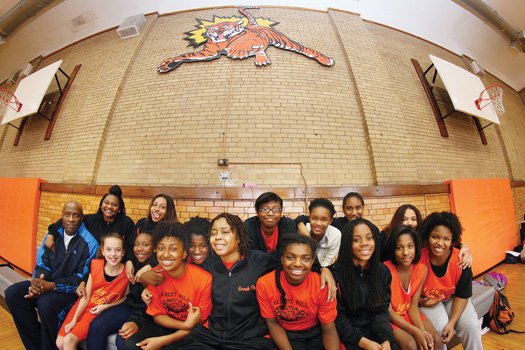 Coach Michele Drayton walked into the Albert H. Hill Middle School gym for the first time since suffering a stroke last month.
The players on her girls' basketball team excitedly ran over, showering her with hugs.
Surrounding her, they applauded and yelled, "Let's win this one for Coach Drayton!"
Putting their hands together in a team huddle, they yelled, "Do it for Coach Drayton! One! Two! Three!"
It was a heartwarming homecoming for the longtime Albert Hill hoops coach, who returned to the team Nov. 4. She suffered a stroke Oct. 2 at her North Side home.
"I felt loved and appreciated," Coach Drayton told the Free Press Wednesday. "It was a special feeling for me to be back and get such a welcome.
"It was like coming home," she added.
Parents of the players, along with her Albert Hill colleagues, walked over and welcomed her back with more hugs and well wishes.
Although still weak from the stroke, Coach Drayton sat on the gymnasium bench and watched as her assistant, Wade Ellegood, coached Albert Hill to a win over Elkhardt in the Richmond Public Schools middle school playoff opener.
"I felt like taking over, but he did a good job," a happy Coach Drayton said afterward of her anxiety of having to watch, instead of coach.
Albert Hill lost its next game to the team from Martin Luther King Jr. Middle School last Thursday in the playoff semifinals.
But the Albert Hill players and Coach Drayton have much to be proud of. The team completed an 11-1 season, which included a 10-0 regular season.
Under Coach Drayton, Albert Hill has recorded four consecutive unbeaten regular seasons and won the middle school league championship in 2011, finishing 13-0.
Coach Drayton, 46, said she knew something was seriously amiss just prior to suffering the stroke. She had been experiencing a series of headaches and felt weakness in her right leg.
Then she fell to the ground while trying to get out of bed that fateful Sunday in October.
She was rushed to the critical care unit at the VCU Medical Center after ambulance medics found her with slurred speech.
Doctors determined she had suffered a stroke and had blood clots in her brain and in her legs.
They cleared the clots with medicine and blood thinners, Coach Drayton said.
The good news is she could still move, walk and talk and never had to use a wheelchair or walker.
"They told me the fact that I was an athlete and was in pretty good shape was probably the reason I didn't suffer more damage," she said.
The doctors attributed the stroke, in part, to the fact that she carries the trait for sickle cell anemia.
Even as she was hospitalized, her thoughts were on her team.
"The players called me almost every day and came to the hospital," she said. "That meant a lot to me.
"I was concerned for them the whole time I was out — that they were going to class and keeping their grades up," she added.