Lady Panthers' 'Towers of Power' jump-start hoops season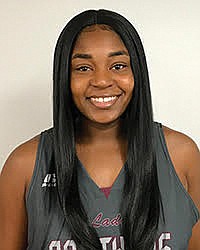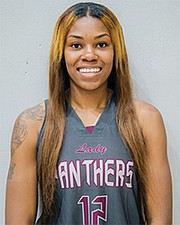 There are at least three towers at Virginia Union University.
A visitor can't miss the brick and mortar tower — the 160-foot Belgian Building — in the middle of the Lombardy Street campus.
But there are two flesh and blood towers inside Barco-Stevens Hall, which is located about the length of a basketball court from the bell tower.
Sharing low-post heroics are 6-foot-2 Jasmine Carter and 6-foot-3 Nicole Floyd, both members of the Lady Panthers basketball team. Affectionately, Coach AnnMarie Gilbert refers to her towering twosome as "our tag team."
Both players have been instrumental in an 8-0 start for Coach Gilbert's defending CIAA champions.
VUU appears to have cornered the market on tall, talented performers who shine near the rims. In 2017, center Lady Walker was named CIAA Player of the Year and Defensive Player of the Year.
Then last winter, Walker's successor, Alexis Johnson, claimed the same two prestigious honors.
Now the low post has been bequeathed to Carter and Floyd, both of whom have waited patiently for the honor.
Carter averages 12 points and 11 rebounds in 29 minutes per game. Floyd averages 12 points and seven rebounds, also in 29 minutes per game.
Here's a glimpse at both young women:
Carter came to VUU as a walk-on from Richmond's John Marshall High School, where she led the Justices to the state 3A semifinals as a senior. At VUU, she has served as backup during the past two years after sitting out her freshman season as a red shirt.
"Waiting behind Lady and Alexis taught me about being humble," Carter said. "I learned so much from practicing against them each day. I'm so much smarter now."
Carter is the first cousin of Armando Bacot, the 6-foot-10 former Trinity Episcopal School star who is now at IMG Academy in Florida. Carter is on track to graduate next spring and plans to pursue a master's in religious studies during her final year of eligibility.
Floyd, who is 23, is the Lady Panthers' oldest player and answers to "Auntie." After earning 6A All-State honors at Stonewall Jackson High School in Manassas in 2014, she first signed with Wake Forest University.
From Wake Forest, she transferred to Fordham University in New York, where she sat out one transfer season, suffered a major knee injury and never played. She transferred to VUU in the fall of 2017, but sat out last season at VUU. She has missed three seasons before coming on the court for the first time this season.
Like Carter, Floyd has a "famous" family member. Her uncle, Jason Floyd, was a front-line player at Georgia Tech from 1996 to 2000.
There's a wealth of riches at VUU. More towers, or at least "mini towers," are en route.
Destiny Gardner and Raven Williams, both 5-foot-11, become eligible to play at the end of the semester. Gardner transferred from the Division I University of North Alabama, while Williams, a native of Petersburg, transferred from Baltimore City Community College.
VUU's backcourt gets a prized addition later this month as well. Shameka McNeill, coming off knee surgery, is practicing with the team and will be activated soon. Her twin sister, Shareka, is the team's top scorer with 23.3 points per game.
While Carter and Floyd are towers of power on the inside, the twins are towers of talent on the perimeter.