Jayla Henderson and Kevin Gayles top city scholar-athletes for Class of 2020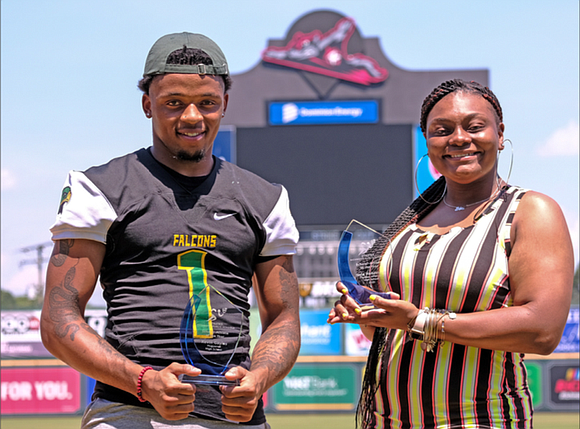 Jayla Henderson, captain of the Thomas Jefferson High School girls' basketball and volleyball teams, and Kevin Gayles, Huguenot High School's football team captain, were honored as the Richmond Public Schools 2020 Scholar-Athletes for their athletic, academic and extracurricular achievements.
The two, both seniors, were recognized during a celebration June 4 at The Diamond.
Jayla, who is salutatorian of the Thomas Jefferson High Class of 2020 with a 4.94 GPA, helped lead the Lady Vikings to their first regional title in in the school's history.
In a recent Free Press interview, she said she was caught off guard because she thought the event was to honor all RPS salutatorians. But receiving the award "made me feel good and it made me realize that all of the hard work paid off in the end."
Jayla has lettered in both basketball and volleyball. She is a three-year letter winner in basketball and was selected to the All-Region 2 second team. She is a four-year letter winner in volleyball.
Away from sports, she is active in her community in a variety of projects, including as a camp leader at Broad Rock Elementary School and community outreach for the Thomas Jefferson's Halloween Trunk or Treat event.
Jayla, who also will receive her International Baccalaureate diploma in July, plans to attend the College of William & Mary in the fall on a full academic scholarship. She also will play basketball during the second semester as she works toward a degree in health sciences. She said her long-range plan is to become a physical therapist in sports.
As salutatorian, she will give a speech that will be delivered during the virtual commencement ceremony at 5 p.m. Wednesday, June 24.
Her advice to students is brief and straightforward: "In academics, as well as sports, it is important to keep pushing because it will all pay off in the end."
As for Thomas Jefferson's outdoor commencement ceremony on the school's football field, Jayla said she plans to strut across the stage wearing her best dress and heels. But, she added, she'll be so excited, "I might run."
For Kevin, winning the Scholar-Athlete Award is very special because he always wanted to make his mark in his high school.
"This honor is a once-in-a-lifetime recognition for my family and my school. People will always remember me," he said in a recent interview.
He said he has sought to be a role model for his younger siblings, Lamont Gayles, 15, and Gasias Gayles, 10. "This will give them a chance to do the same thing and make another mark for our family."
He said he pushes them to be scholars even as they don't play sports.
Kevin, who loves math, has a 3.6 GPA. He plans to attend Norfolk State University in the fall on a full athletic scholarship. After earning a bachelor's in business administration, he wants to play in the NFL and establish a sports equipment business.
On the gridiron, Kevin excels both on offense and defense. During his senior season with the Huguenot Falcons, he was selected to the All-Region 4 second team, as well as to play in the Virginia High School Coaches Association
All-Star Game, where he earned the 2019 Best Offensive Player Award.
In 2018, he was selected to the All-Region 4 first team, as well as the All-Metro team.
Kevin is an accomplished artist whose work has been displayed in a number of local exhibitions.
"No matter what others think, you can be successful if you put your mind to something," he said.