Huguenot wins RPS Alumni Basketball Showdown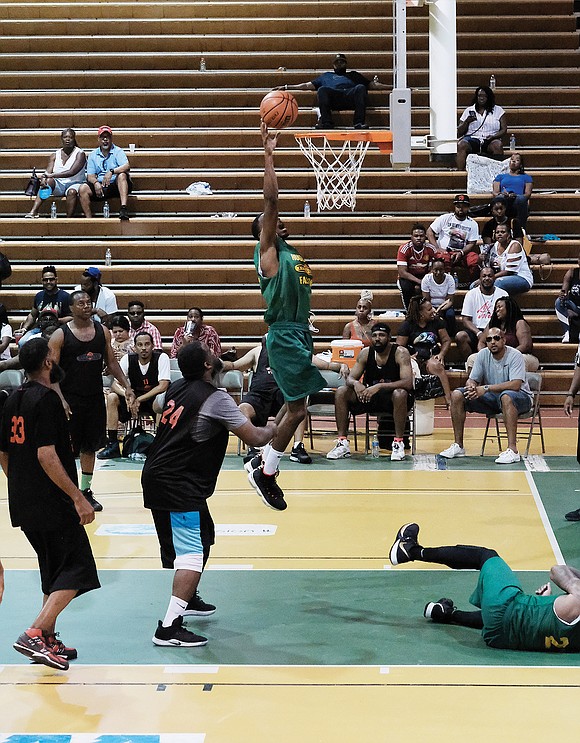 There's still plenty of twinkle left in Huguenot High School's former basketball stars.
The Falcons rule the roost today as champion of the inaugural Richmond Public Schools Alumni Basketball Showdown.
Led by MVP Olajuwon Johnson, the alumni Falcons defeated the alumni team from Thomas Jefferson High School 70-44 in the final last Saturday at the Arthur Ashe Jr. Athletic Center.
To be eligible, players must have finished their high school eligibility prior to 2010.
Alumni teams were entered from Huguenot, Thomas Jefferson, George Wythe, Armstrong, John Marshall and John F. Kennedy high schools.
To reach the final, Huguenot won close games over Kennedy in the quarterfinal and Wythe in the semifinal.
Huguenot's nine-man roster included Johnson, Bo Jones, Chris Jones, Juan Wilson, Dave Brown, John Crawley, Marlin Porter, Marcus Woolridge and Cory Sheppard.
Jones, the oldest man on the Falcons roster, was an All- Metro selection for Huguenot in 1996 and went on to play for Virginia Commonwealth University, where he scored 1,334 points in just three seasons.
"We practiced some at CarMax and worked on a few sets, a few isolations," Jones said about the alumni team. "Everything fell into place."
The Falcons coaches were Fonnie Mason and Damion Pleasants.
After three grueling games on the full-sized court at the Ashe Center, where the air conditioning wasn't working, the team saved little energy for celebration after winning the alumni title.
"To tell the truth," Jones said, "it was so hot and we were so tired, we just went and laid down in front of the (electric) fans, took our shirts off and talked about old times."
Among the other former All-Metro players involved in the alumni showdown were Kendrick Warren and Thomas Meredith for Thomas Jefferson, Luqman Jaaber and Tyree Evans for George Wythe and Milton Bell for John Marshall.
Before the championship game, cheerleaders from all the schools put on a spirited exhibition, which Huguenot also won.