Despite no home court, Huguenot goes to state quarterfinals
Fred Jeter | 3/1/2018, 1:59 a.m.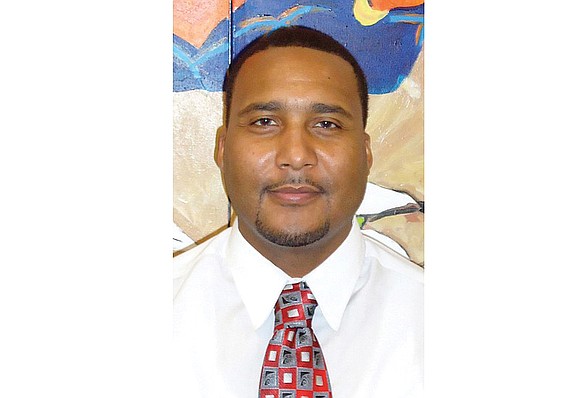 A basketball season that couldn't have started much worse is now on track to be Huguenot High School's best ever.
The Falcons received alarming news before the season that their gymnasium, just two years old, was rendered unplayable because of water damage to the floor.
So having no gym for games or practices turned out to be no problem, at least based on the Falcons' achievement.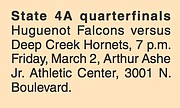 First-year Coach Ksaan Brown's squad nailed down the school's first-ever regional title on Monday, Feb. 26, with a 73-48 win over Chesterfield's Monacan High School in the Division 4, Region B final at the Arthur Ashe Jr. Athletic Center.
Huguenot (16-7) now advances to within three games of its first state title. The countdown starts Friday, March 2, with a state quarterfinal match against Deep Creek High School of Chesapeake at the Ashe Center.
The Falcons, having won seven of the last eight games, were overpowering at the regionals, defeating Chancellor High School 85-46 and Louisa High School 70-55 to advance to the region final against Monacan, the 2016 state champ.
Huguenot boasts a talented cast featuring 7-foot center Eric Ruston, 6-foot-6 forward Deshawn Ridley, 6-foot-4 wing Lance Monteiro and quick, sharp-shooting guards Kevin Gayles and Ivangel Pacheco.
This represents a high-water mark for a Huguenot program dating to 1960 when the school was in Chesterfield County. It became a Richmond city school in 1970, following annexation.
Despite such alumni as Gerald Henderson, who has three NBA championship rings, the Falcons had never been to a regional final prior to this year.
The school shared regional and state titles in 1984 when it was part of the Jefferson-Huguenot-Wythe complex.
Brown, a former basketball coach at Chesterfield's Meadowbrook High School, served more recently as activities director at Armstrong High School. He succeeded longtime Coach Bo Jones Sr. at Huguenot.
With no usable, on-campus facility, the Falcons spent much of the season practicing and playing some home games at Lucille Brown Middle School.