Huguenot's Deshawn Ridley snags regional Player of the Year
Fred Jeter | 3/10/2018, 9:14 a.m.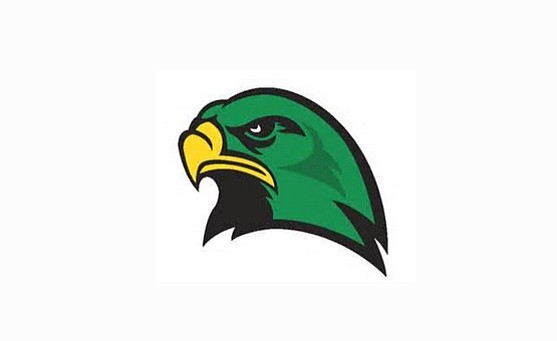 Deshawn Ridley's trek to basketball stardom hasn't always been the smoothest of rides.
Twice, he was cut from his school teams — first as a seventh-grader at Elkhardt Middle School, and again as a Huguenot High School freshman.
Each time he persevered, opting to bounce back rather than bow out.
"I never had much training, didn't play any organized basketball until middle school," Ridley recalled. "I really didn't even know how to play. I just went out and played hard defense."
Natural ability, a long frame, a passion for the sport and a stick-to-it attitude was his winning formula to combat what he termed "struggles."
Today, the 6-foot-6 Huguenot High senior is Division 4, Region B Player of the Year. He has been a catalyst in what has been arguably the Falcons' best season ever.
The senior tallied 27 points Tuesday night in Huguenot's season-ending 84-73 loss to Lake Taylor High School of Norfolk in the State 4A semifinals at the Arthur Ashe Jr. Athletic Center. The Falcons finish the season 17-8.
Huguenot won its first regional title over Monacan High School of Chesterfield County on Feb. 26. Then on Friday, March 2, the Falcons scored a 69-53 win over Deep Creek High School of Chesapeake at the Arthur Ashe Jr. Athletic Center in Richmond to advance to the State 4A semifinals.
The quick, bouncy and energetic Ridley averaged 20 points, 11 rebounds and 3.5 blocked shots for first-year Coach Ksaan Brown.
Ridley's ability to rise and reject shots earned him the nickname "Mutombo," after the former NBA player.
"Deshawn is a very talented player," said Coach Brown, who was named the region Coach of the Year.
"We play him at the four (power forward), but on the next level, he'll be a three (wing), even a two (shooting guard). While he doesn't take a lot of 3-pointers, it's usually lights out when he does."
Living with his mother, Marquita Ridley, and a sister in South Richmond, Ridley has enjoyed success without the benefit of travel ball, known as "AAU." All of his college recruiting exposure has come while wearing Huguenot's green and gold.
"I never had money for travel ball," he said, shrugging his wide shoulders. "You've got to go places for that and I was never able."
Instead of traveling to fancy venues during the offseason, he has become a regular in what he calls "street ball" and/or "the park." More specifically, that would be Broad Rock Sports Complex off Warwick Road.
At the park, he encounters a wide range of competition. "There are a lot of older guys, guys I'd call city alumni," he said.
Among those offering guidance, as well as good-spirited competition, is former Huguenot star Jareese Cooley, a legendary leaper.
"We've had some pretty good dunk contests," Ridley said, noting that he could dunk easily by his sophomore season at Huguenot.
While he may have NCAA Division I talent, Ridley has had some challenges in the classroom and likely will begin his college career on the junior-college level.
South Georgia State College, Wallace State Community College in Alabama, and Dodge City Community College in Kansas are among his suitors. He also has visited Richard Bland Community College in Petersburg.
Ridley's father is Ivan Smith, a former All-Dominion District standout at George Wythe High School who later played at North Idaho College.
Smith "comes to our practices and he can still play," Coach Brown said.
While Ridley has not had a close relationship with his father, he speaks proudly of his father's achievements.
When Ridley hints of "struggles" in his young life, he's not talking about something as humdrum as a few errant passes or missed free throws. The life struggles are deeper than that.
In December while at home with his mother in the Foxwood Apartments, bullets whizzed through their windows, one striking a couch. Thankfully, no one was injured in the drive-by shooting. The Ridleys were not the intended target.
Understandably rattled, Ridley and his family have since moved to a safer location.
No one ever promised Deshawn Ridley smooth sailing. So he continues to hold on tight, even if the ride gets a bit bumpy at times.