Huguenot High looking to be No.1 in 'futbol'
4/28/2017, 12:55 p.m.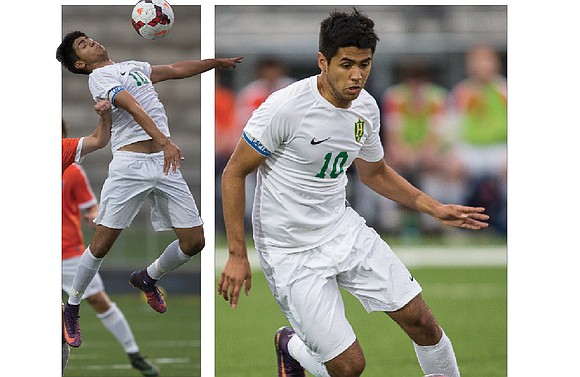 Something you may want to know about Huguenot High School soccer is that the athletes and coaches hardly ever call it "soccer."
The Falcons refer to soccer as football — or "futbol" — like most of the Spanish-speaking world.
The reason the globe's most popular sport is called soccer in the United States is to avoid confusion with American football.
But there is no confusion this spring among futbol Coach Justo Vasquez's teenage enthusiasts at Richmond's Huguenot High in South Side.
The reason futbol has replaced soccer in Huguenot High terminology is because the team consists almost entirely of first or second-generation students from Guatemala, Honduras, El Salvador and Mexico.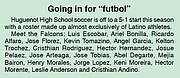 Coach Vasquez moved to the United States from Venezuela 16 years ago. He also teaches a majority of his players in Huguenot's English as a Second Language program.
Asked about his melting pot of a roster, Coach Vasquez quickly replies, "All Latinos."
After a moment of reflection, he adds, "We have just one American, Leslie Anderson," who is African-American.
Coach Vasquez said the Falcons' soccer team reflects the school's dramatically changing demographics. He estimates that Huguenot's student population is now nearly 40 percent Latino.
Most of the Falcons have been playing the sport since childhood.
In sparking Huguenot High to a 5-1 record so far this season, senior midfielder Ricardo "Ricky" Alfaro, who was born in Manhattan, N.Y., of El Salvadorian parents, has been the offensive headliner with 10 goals.
Alfaro's tally included three scores (a hat trick) — all in the first half — in an 8-0 rout of Armstrong High School on April 19.
The "hat trick" — a soccer/futbol term for three goals in a game — against Armstrong High came despite Alfaro playing with a sore, swollen face, resulting from a bee sting.
"I still had to play," said Alfaro.
The lean, 6-foot Alfaro, who says he is "saving up to buy a car," is in his fourth year of varsity play. A proven standout, he had seven goals in both his sophomore and junior seasons.
"Ricky is a great player," said Coach Vasquez. "He thinks the game so well, and he is so fast, sometimes too fast for the rest."
The Falcons converse mostly in Spanish on the field, but Alfaro and his brother, sophomore Luis Escobar, speak fluent English.
Alfaro was second team All-Conference a year ago and has earned nearly a full scholarship to junior college soccer powerhouse Frederick Community College in Frederick, Md.
"From there, I hope to play (NCAA) Division I," he said of his long-range plans.
Like many of his teammates, Alfaro polished his skills playing in a mostly adult Latin American League on Sundays at River City Sportsplex in Chesterfield County.
"Playing against older men was significant for me," said Alfaro. "It makes you play harder. It was especially helpful in my case because I played in the top division, La Primera."
To be fair, Huguenot High has not faced the meat of its schedule. Richmond schools have never fared well against their more formally trained and better funded suburban opponents.