Denzel preaches gratitude at C.O.G.I.C. gathering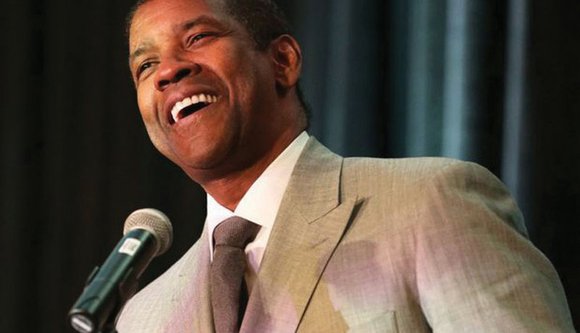 ST. LOUIS
Hollywood star Denzel Washington, the son of a pastor, preached a sermon of gratefulness to hundreds of members of the Church of God in Christ at their annual Holy Congregation in downtown St. Louis.
"I pray that you put your slippers way under your bed at night, so that when you wake in the morning you have to start on your knees to find them. And while you're down there, say thank you," he told the crowd Nov. 7, at a $200-a-plate banquet at the Marriott St. Louis Grand Hotel to raise money for the denomination's charity work.
"It is impossible to be grateful and hateful at the same time," he said. "We have to have an attitude of gratitude."
The acclaimed actor grew up in the Church of God in Christ. He, his wife and children still attend the denomination's West Angeles church in Los Angeles.
His father, Denzel Washington Sr., was a pastor and, according to his son, a good father. The actor talked of the comfort he got in hearing his father's car pull into the driveway every evening. It gave him a sense of stability.
A church woman also gave him a hint of his career to come, he said.
Mr. Washington remembered sitting in his mother's beauty shop as a young man. He was flunking out of college with a 1.7 GPA. "I had no future. I was sitting in the chair looking in the mirror," he said, when he heard a woman speak from under a hair dryer.
"Young man, you're going to travel the world and speak to millions of people," she said. "You are going to preach."
His mother told him that the woman was thought to have the gift of predicting the future.
"I guess she was right," said Mr. Washington. These days, Mr. Washington is trying to go beyond speaking through his movies by speaking more often to groups about his faith and "what God has done for me."
Mr. Washington, whose roles have ranged from civil rights icon Malcolm X to an Oscar-winning role as a corrupt police detective, led the church members in reciting the Lord's Prayer.
"Faith and optimism can add years to your life," he told those at the banquet. "A bad attitude is like a flat tire. Until you change it, you're not going anywhere," he said, urging the audience to "use the power of prayer in everything we do."
The Church of God in Christ is the largest African-American Pentecostal denomination, with about 12,000 congregations. The last census of membership by the denomination, done about 15 years ago, counted 6.5 million "saints," or adherents. Leaders say there are more members now. They say the church is growing and putting more emphasis on social justice issues.
The denomination's urban initiatives program helps churches develop programs in five areas: Access to quality education, economic development, crime prevention, strengthening families and financial literacy.
This is the sixth time the denomination's annual Holy Convocation has been held in St. Louis since leaving its home base, Memphis, Tenn., in 2009.