Kenyan, Ethiopian runners clinch top spots in marathon
Fred Jeter | 11/20/2015, 8:35 p.m.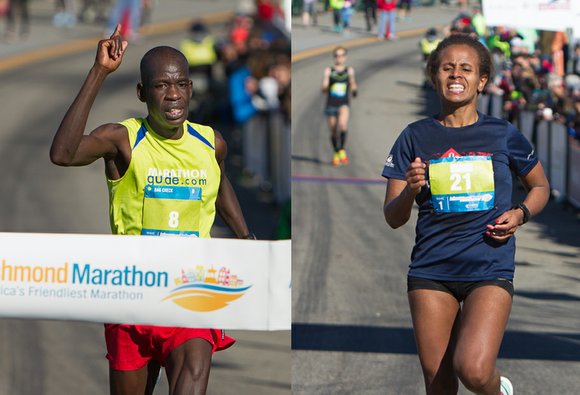 Runners from Kenya and Ethiopia were first to the finish line last Saturday in the 38th Annual Anthem Richmond Marathon.
More than 19,000 runners competed in the main event — the 26.2-mile marathon — along with its companion races, the half marathon and 8K.
Some 15,700 finished the courses on a chilly, breezy morning that was challenging for fans but just right for elite runners.
Race officials estimated 40,000 spectators lined the roads offering encouragement during the events.
Placing first among the male racers was Kenyan Hilary Too, 36, in 2:18:48.
It marked the 13th time in the last 15 years that an East African runner from Kenya or Ethiopia has placed first.
This year's women's champion was 23-year-old Hirut Beyene Guangul of Ethiopia. She finished in 2:42:13. It was the sixth straight year an Ethiopian woman has been the Richmond Marathon women's champ.
The men's and women's champions each received $2,500. They fell short of the $2,500 bonus awarded for event records.
Kenyan Kennedy Kemei set the men's record in 2011 at 2:13:45. The women's record of 2:31:2 was established in 2000 by Russian Irina Suvorova.
Kemei took second this year at 2:19:01. Mengistu Tabor Nebsi of Ethiopia placed third at 2:22:56.
The first American finisher was former College of William & Mary athlete Richard Morris of Richmond. He came in fourth with a time of 2:26:39.
Coincidentally, this is the second time in the last three years a Kenyan named Too has won. In 2013, Sammy Too, no relation, won in 2:15:14.
This year's women's race was a second- and third-place splash for Kenyans, with Jane Jerono Rotich taking second at 2:45:52 and Loice Kangogo taking third at 2:48:01.
Suzanne Hutchins of Charlottesville was fourth with 2:52:37.
Cash awards were won by the first five finishers in each race.
The remarkable, sustained success of East African runners in Richmond is reflected on the world stage.
Both Kenya and Ethiopia began attending the Summer Olympics in 1956 at Melbourne, Australia. They began making their medal mark in 1960 in Rome, when Ethiopian Abebe Bikila won that year's Olympic Marathon running barefoot and again in 1964 in Tokyo wearing shoes.
Kenya's first gold medalist was Naftali Temu, winner of the 10,000-meters competition at the 1968 Olympics in Mexico City. 
Overall, Kenyan men and women have won 86 Olympic medals — 25 of them gold medals — while Ethiopians have won 45 medals, 21 of them gold medals.
The first Kenyan runner to win the Richmond Marathon was Hillary Tuwei in 1979, the second year of the event.
At the time, Tuwei was a student athlete at the University of Richmond, recruited to UR by track Coach Fred Hardy.
Tuwei's winning time of 2:22:26 was more than six minutes faster than the 1978 winner, Richmonder David Ruggles with 2:28:49.
The last local athlete to win in Richmond was Tim Covington, an athlete out of Clover Hill High and Virginia Tech. Covington won in 1994, 1996 and 1998.