Elite runners from Kenya and Ethiopia win Richmond Marathon
Fred Jeter | 11/15/2018, 6 a.m.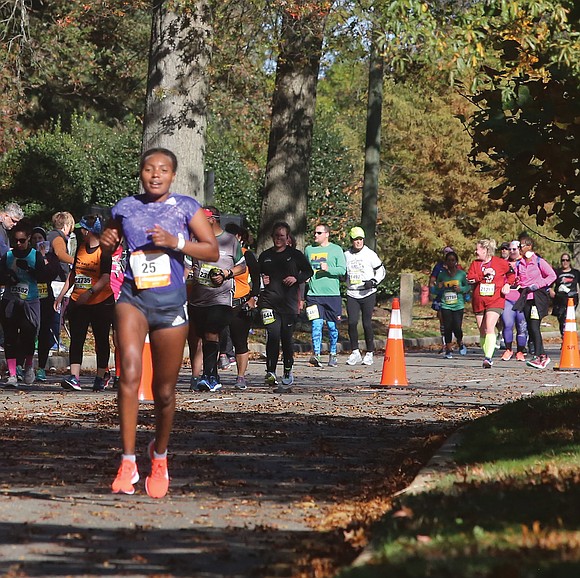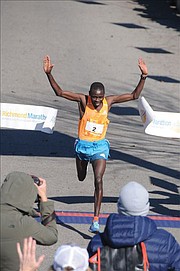 Kenyan and Ethiopian runners make up a tiny percentage of the total number of participants in the annual Richmond Marathon. But they're clearly at the head of the pack.
Last Saturday's 41st edition of one of the area's bold-letter sporting events didn't differ much from previous races. For the 17th time in the last 18 years, an athlete from an East African nation broke the tape to win the men's 26.2-mile endurance test.
For the ninth time in the last 10 years, a swift strider from one of those same countries was first to the finish line in the Richmond Marathon's women's division.
With temperatures in the low 40s during last Saturday's start, a cold but excited throng of about 18,000 runners competed in the event's three races — the marathon, the half-marathon and the 8K.
Only a few runners, many with overseas connections, departed with checks in hand.
First place $2,500 marathon payouts were awarded to men's champ Boaz Kipyego of Kenya and women's winner Bose Gemeda Asseta of Ethiopia.
Kipyego ran the course in 2 hours, 20 minutes, 44 seconds. Asseta clocked in at 2:39:04.
To put that into perspective, Kipyego averaged about 5:22 per mile. Very few competitors could manage even one mile at that pace.
Asseta's per-mile pace was about 6:04.
Still, both fell short of the Richmond records held by Kenyan Kennedy Kemei (2:13:45 in 2011) and Russian Irina Suvorova (2:31:25 in 2000).
Kipyego was followed across the finish line by Kenyan Lazarus Yego, Ethiopians Suleman Abrar Shifa and Abu Kebede Diriba, and then Will Christian from Chesapeake.
The elite athletes are part of a touring group of East Africans who race on a pro road-racing circuit. Typically, they dominate the races they enter.
Earlier this month at the New York City Marathon, Ethiopian runners finished first and second among men, while Kenyan women placed first and second.
Richmond featured a rare local contender among the ladies. Keira D'Amato of Midlothian placed second in the women's marathon in 2:40.56. D'Amato, who earned $1,500 for her efforts, is wife of Anthony D'Amato, former standout runner at Midlothian High School.
Half-marathon winners were Kenyan Nicholas Kipkemboi (1:03:2) and Beth Sachtleben of Alexandria (1:13:35). Sachtleben won last year's Richmond Marathon.
The 8K champs were South Carolinian Craig Nowak (22:54) and Kenyan Eglay Nalyanya (26:52).
Thousands more people lined the streets offering support and cheers for the runners.
Registration already is underway for the 42nd Annual Richmond Marathon set for Nov. 16, 2019.