40th Richmond Marathon ends with 3 winners disqualified
11/17/2017, 7:53 p.m.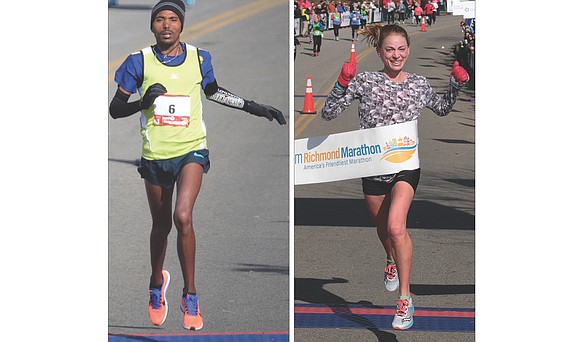 The 40th edition of the Richmond Marathon resulted in an unfortunate historical first — the disqualification of winners.
Race officials announced Wednesday that three winning athletes were disqualified for being represented by a banned sports agent and for their attempts to hide this during the elite runner registration process.
Disqualified were Kenyan Julius Koskei, who last Saturday had been declared the winner of the men's marathon after crossing the finish line first.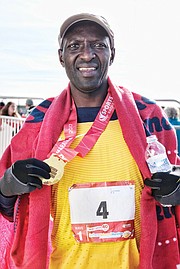 With the disqualification, Ethiopian runner Temesgen Habtemariam is now the official champion with a time of 2 hours, 21 minutes and 28 seconds.
Also disqualified were the first and third place finishers in the women's half marathon, Ethiopians Firegenet Mandefiro and Gadise Megersa, respectively.
The new top three winners in the women's half marathon are Nicole DiMercurio of North Carolina, Letitia Saayman of South Africa and Margaret Wanjiur of Kenya, officials announced.
DiMercurio's winning time is 1:14.10.
According to spokesman Pete Woody of Richmond Sports Backers, the group that organizes the annual marathon, "Elite entry and prize money rules state that to be eligible for elite entry or prize purse, an athlete must not be represented by coaches and/or agents who have had two or more athletes suspended or banned for the use of performance enhancing drugs in previous four years."
Elite runners, determined by résumé, are awarded certain perks such as waiver of the entry fees, hotel accommodations and the opportunity to start the race on the front row.
Mr. Woody identified the runners' agent as Larisa Mikhaylova, a former elite Russian athlete who represents many elite runners from Kenya, several of whom, according to published reports, have tested positive for doping at races in Mexico.
Reports also indicate that Ms. Mikhaylova is an agent for L.M. Elite Running Club based in Cincinnati.
So what alerted race officials to this violation?
"I think during registration one of the athletes said something that sent up a red flag — sort of tipped us off," Woody said. "That persuaded us to look into it."
There is no drug testing for Richmond Marathon runners and there is no evidence any of the disqualified runners were using banned substances, Woody said.
It is clearly a case of guilt by association with Ms. Mikhaylova.
Before the investigation, Koskei seemed to have laid claim to $2,500 for capturing first place in the men's' race, plus a $1,000 bonus for breaking the 2:20 mark.
The top prize for the half marathon is $1,000.
However, Woody said no prize money is awarded on race day. It is mailed at a later date. Therefore, none of the impacted runners will be required to return their purse.
"This is the first time anything like this happened," Woody said. "It's unfortunate, but it doesn't change much for the 19,000 or so other runners. It was still a great race."
So far, results for the women's marathon, men's half marathon and men's and women's 8K races have escaped controversy or change.
Beth Sachtleben, a Northern Virginia resident and former track and cross-country standout at George Mason University, won the women's marathon in 2:39, defeating Ethiopian Meseret Ali Basa by some 5 minutes.
Sachtleben's triumph snapped a string of seven straight years in which Ethiopian women were first to the finish line.
Overall, approximately 19,000 runners braved the cold — 29 degrees at race time — in the marathon, half marathon and 8K races combined.
The men's half-marathon champ was Kenyan Benard Ngeno, with a time of 1:03.4.
The 8K victors are both residents of Greenville, S.C. Craig Nowak won in 22.40, while Stephanie Garcia, a former University of Virginia athlete, prevailed in 25.39.
The half marathon and 8K winners each win $1,000.
Registration is underway for the 41st Richmond Marathon, which is slated for Nov. 10, 2018.