Ethiopian runners win Richmond Marathon
Fred Jeter | 11/22/2019, 6 a.m.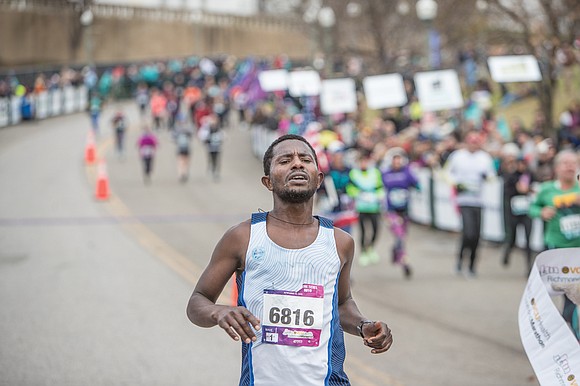 The Richmond Marathon is an annual gathering for thousands of local and state runners, plus a group of elite runners.
Again, elite runners from an African nation were the winners last Saturday.
Ethiopians Ashenafi Birhana and Ayantu Dakebo Hailemariyan won the men's and women's divisions, respectively, in the 42nd annual running of the popular footrace that begins and ends in Downtown.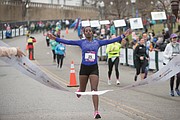 A total of about 19,000 people competed overall in the event's three races — the 26.2-mile full marathon, the 13.1-mile half marathon and the 8K of 4.97 miles.
In the main event, Birhana, 31, who now lives in Washington, won the marathon with a time of two hours, 19 minutes, 43 seconds in last Saturday's cloudy and wintry conditions, with temperatures in the high 30s and winds at 10 to 15 mph. By contrast on Saturday, the high was 72 Nov. 16 in the Ethiopian capital of Addis Ababa. Birhana's chilly run was off the Richmond Marathon record of 2:13:45 set by Kenyan Kennedy Kemei in 2011.
Hailemariyan, 23, won the ladies' field in 2:36.19. Russian Irina Suvorova set the women's standard of 2:31:25 in 2000. Both Marathon champions were awarded $2,500 first place checks.
Since 1999, male runners from Kenya and Ethiopia have won the Richmond Marathon all but twice. And women from Africa have broken the victory tape in the women's division nine of the last 10 years.
The first African winner was in 1979, when Kenyan Hillary Tuwei, a student at the University of Richmond, outran the field.
Taking second in this year's men's race was former Virginia Tech student Daniel Jaskowak in 2:20:54. Four other East African runners placed in the Top 10. Ethiopian Bizuwork Geta- hun Kaysaye was second among women at 2:36:30.
African runners fared well in the other races as well. Ethiopian Julius Kogo won the men's half marathon in 1:04:45, and Kenyan Lawrence Kipkoech prevailed in the men's 8K in 23:24.
The women's half-marathon victor was Fairfax resident Bethany Sachtleben in 1:12:34.
The 8K female winner was Ethiopian Gotytom Gebreslase in 25:49.
Richmonders Harrison Toney (2:26:25) and Leah
Schubel (2:58:50) were winners of the Richmond Region division of the marathon.
Toney is a former standout runner at Patrick Henry High School in Roanoke and Roanoke College.
Registration is underway for the 43rd Richmond Marathon set for Nov. 14, 2020.