On your mark...42nd Annual Richmond Marathon gets underway Saturday
Fred Jeter | 11/15/2019, 6 a.m.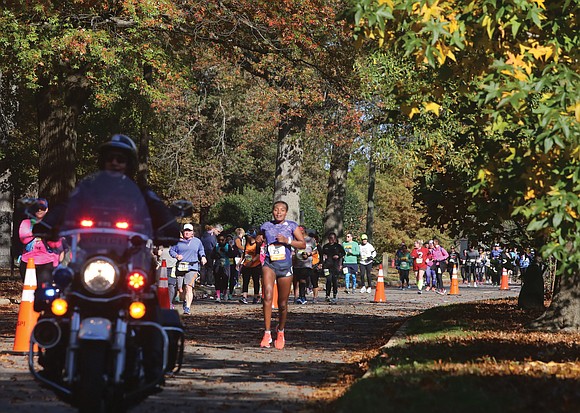 For thousands of runners, the time has come to lace up the sneakers, stretch the quads and hamstrings and pray all the training will pay off.
The Richmond Marathon, now in its 42nd year, has become a bold-letter event throughout Central Virginia and beyond.
Pete Woody, spokesman for the organizing group Sports Backers, predicts about 19,000 runners and walkers will con- verge Saturday, Nov. 16, in Downtown, where about 5,500 are expected to run the full 26.2-mile marathon.
The runners will come in all shapes and sizes, with dramatically different skill levels. On this day, competitive elite runners will run the same course as recreational runners.
"It's a cool component," Woody said. "You've got a couple dozen elite runners at the front, but for most, it's a matter of achieving personal goals."
Will history repeat? Defending champions from the 2018 Richmond Marathon are Kenyan Boaz Kipyego in the men's division and Ethiopian Bose Gemeda-Assefa in the women's division. Gemeda-Assefa is returning for this year's marathon, but Kipyego hadn't yet entered as of early this week. Elite runner coordinator Thom Suddeth said last-minute entries are not rare.
Foreign legion: Runners from East Africa have dominated recent races. Since 2000, only one Amercian — Ben Zywicki in 2014 — has won the men's division. Suddeth reported that this year's Elite division has more Americans than usual.
For the record: Kenyan Kennedy Kemei set the Richmond event men's record of 2 hours,13 minutes, 4 seconds in 2014. Russian Irina Suvarova set the women's record with 2:31.2 in 2000.
Finishing kick: The final two miles of the marathon are slightly downhill, providing for an exciting conclusion.
Knit cap day: Saturday temperatures expected to be in the low 30s at race time. The marathon starts at 7:45 a.m. at 5th and Grace streets, with the half marathoners starting 15 minutes earlier at 7:30 a.m. from 7th and Broad streets and the 8K starting at 7 a.m. from 8th and Broad streets. While the cool temperatures are acceptable for runners, spectators are advised to wear their woolens. There is a slim chance of rain Saturday, with winds near 10 mph.
Dash for dollars: First place winners in the men's and women's divisions will receive $2,500. Winners of the 8K and half marathon will receive $1,000.
Next stop: Boston. The Richmond race serves as a qualifier for the Boston Marathon and also for the U.S. Olympic marathon trials.
In the beginning: According to legend, Greek messenger Pheidippides ran non-stop from Marathon to Athens to announce the Greeks had defeated the Persians in the Battle of Marathon. That was front page news in 490 B.C.
But after delivering his jubilant message, "We have won," an exhausted Pheidippides collapsed and died.