Va. pioneer to receive Medal of Freedom
97-year-old NASA mathematician headed to White House for highest civilian honor
Thomas Kidd | 11/20/2015, 7:36 p.m.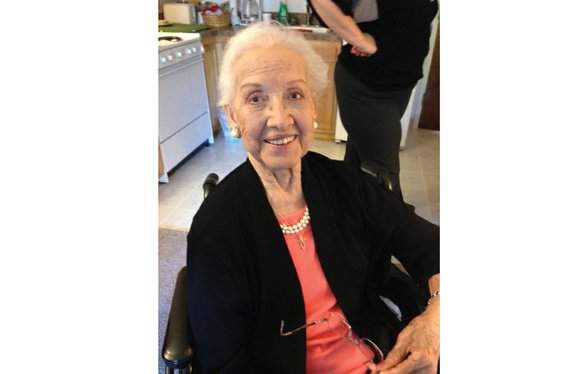 Former NASA mathematician Katherine Johnson could not have calculated her trajectory to the White House. 
The 97-year-old Newport News resident will be among 17 Americans receiving the Presidential Medal of Freedom — the nation's highest civilian honor — at the White House on Tuesday, Nov. 24. 
The Presidential Medal of Freedom is presented to individuals who have made meritorious contributions to U.S. security, national interest, world peace or cultural endeavors. 
Mrs. Johnson is being recognized for her pioneering work in America's aeronautics and space program with the National Advisory Committee for Aeronautics, the agency that preceded NASA.
Her mathematic computations have influenced every major space program — from America's first manned space flight by Alan Shepard in 1961 to Apollo 11 and Neil Armstrong's landing on the moon in 1969 and all the way to the Space Shuttle program.
When she started with NACA in1953, it "was a time when computers wore skirts," Mrs. Johnson said in a Feb. 5, 1997, interview. Her calculations, done by hand with pencil and paper, delineated the trajectory needed to get astronauts into space.
But before she was calculating the ascension of men to the stars, she was a star in mathematics in her hometown of White Sulphur Springs, W.Va.
At the time, White Sulphur Springs public schools had no school for African-Americans beyond eighth grade. So Mrs. Johnson's father moved the family so that his four children could complete their education. She graduated summa cum laude in 1937 from West Virginia State College with a degree in mathematics and French and began teaching in the West Virginia school system.
It was only after she and her husband moved to Hampton that she embarked on an illustrious career with NACA. She began her career with Langley Research Center as a pool mathematician with a group segregated both by race and gender. Her talent stood out, and she was "loaned" to the all-male flight research division.
Her knowledge proved to be invaluable and her assertiveness won her a permanent spot in the previously all-male division.
As the space program grew, she transitioned from the Flight Mechanics Branch to the Spacecraft Controls Branch and began calculating flight trajectories for America's first flights into space.
She has been recognized by the space organization with special achievement awards in 1970, 1980 and 1985. In addition, she has been awarded three honorary degrees from State University of New York (SUNY) in Farmingdale, Capitol Technology University and Old Dominion University.
So what was her reaction to the news this week that she was being invited by President Obama to the White House to receive the Presidential Medal of Freedom?
"Very laid back," her daughter, Joylette Hylick of Mount Laurel, N.J., told the Free Press.
"She usually responds to any accolades with, 'I was just doing my job. I loved it and I did it well.' "
Mrs. Johnson, now a grandmother who enjoys visitors at the retirement community where she lives with her husband in Newport News, is not so much focused on receiving the award as she is with the opportunity to bend the president's ear.