UCI bike races
Richmond claims big win by the numbers
Thomas Kidd | 10/2/2015, 9:18 p.m. | Updated on 10/2/2015, 9:18 p.m.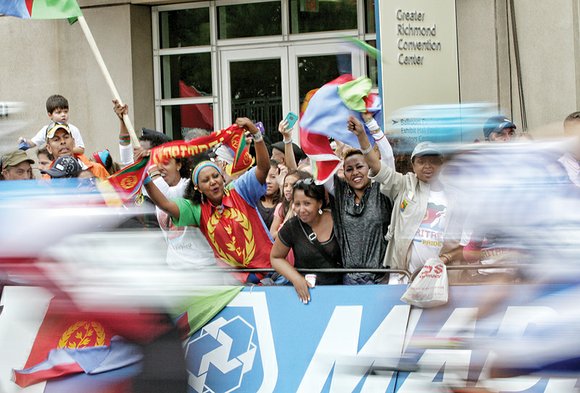 In the afterglow of the UCI Road World Championships, Richmond's success-failure rating reads like a tale of two cities.
It was the best of times
The Richmond government proved to the world that it could handle the logistical complexities associated with hosting a 10-day, international sporting event.
Richmond 2015, the organizing group, proclaimed victory just hours after men's elite cyclist Peter Sagan of Slovakia crossed the finish line Sunday at 5th and Broad streets in Downtown to cheers and the clang of cowbells to become the men's world cycling champion.
Before the steel barricades, media trucks and colorful banners could come down and the 1,000 athletes could leave town, the group noted that in addition to capturing hundreds of millions of viewers in 150 countries, the bicycle races drew about 645,000 spectators to Metro Richmond between the Sept. 18 opening ceremony at Brown's Island and Mr. Sagan's 162-mile championship win during Sunday's grand finale.
"A truly remarkable series of championship races was topped only by the excitement and enthusiasm shared by hundreds of thousands of spectators who saw the very best of what Richmond has to offer," Mayor Dwight C. Jones said in a statement issued by organizers.
More than 40 television partners, including 17 networks broadcasting live from Richmond, produced more than 800 hours of programming, organizers said.
"This is exciting for us," said Keira Johnson, a Virginia Department of Housing and Community Services employee, who set up folding chairs just a block from the finish line to take in the race with her 12-year-old son, Macari.
"I thought it was going to be a madhouse, but it was really easy to get right Downtown and into the parking deck. No big deal."
Macari nodded in agreement between bites of his hotdog.
Adding to the excitement, the city fulfilled its commitment to provide auxiliary entertainment. There were food trucks and souvenir vendors, along with the UCI FanFest at the Greater Richmond Convention Center that became a haven for fans seeking to escape the mist and rain during the latter days of the races.
FanFest featured virtual bike races, a children's play area and an adult play area, complete with wine tastings and a fully stocked bar. All of the indoor activities were in close proximity to the broadcast of the race.
Like most sporting events, the real excitement and flavor was best felt where the action was taking place. Broad Street was afire with flags from some of the 74 home countries of the cyclists, including Russia, Italy, Australia and Canada. However, none shone more proudly or more numerous as the green, red and blue flag of Eritrea.
Located in the horn of Africa, Eritrea is a small country — not much larger than the state of Virginia. What it lacks in square miles, it more than makes up for in heart and national pride.
More than 100 Eritreans literally paraded along Broad Street on Friday during the Men's Under 23 Road Race. With four of their countrymen competing in the event, they draped large Eritrean flags around them and cheered with great enthusiasm so they could be spotted as the cyclists whizzed by.