More than 12,000 flood Brown's Island for race opening
Joey Matthews | 9/25/2015, 7:10 a.m. | Updated on 9/25/2015, 7:10 a.m.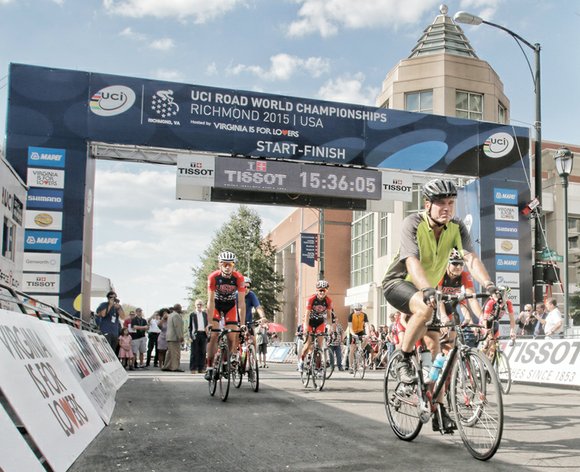 Richmond native and American Idol finalist Rayvon Owen and the Richmond Symphony wowed more than 12,000 people Friday night on Brown's Island as they opened the UCI Road World Championships with a dazzling show ushering in a resplendent riverside sunset.
The Richmond Cycling Corps, a group of East End youngsters ages 12 to 17, then led a colorful procession of the 16 cyclists from Team USA, followed by 74 youngsters carrying the flags of the nations participating in this international bicycling race.
The crowd erupted in loud cheers.
Gov. Terry McAuliffe, Sen. Mark R. Warner and Mayor Dwight C. Jones, who along with Dominion's Thomas F. Farrell II, are co-chairs of the event, added political clout to the official opening ceremonies as they basked in bringing the annual bike races to the United States for the first time since 1986.
By their reactions, the crowd of thousands gave the kickoff a big thumbs-up.
"I just want to be a part of it," said Elseen Redford of South Side, who attended the event with her husband, Greg.
"I've never seen anything like this before, and that's what makes it more exciting," added Ms. Redford, who works in the city's Department of Social Services.
South Side resident Jonathan Williams of the LeClairRyan law firm in Downtown walked among the throngs of people with his wide-eyed, 4-year-old son, Elijah.
"We try to do every festival in Richmond, whether it's in the city or in one of the nearby counties," he said. "We're out here to support RVA. I want to show my son different cultures and nationalities, so he's exposed to a little of everything."
He said his wife, DeAndre, was nearby volunteering in one of the concession booths.
The opening was an opportunity to showcase Richmond in its best light — along the banks of the James River and with local talent.
Patrice Fitzgerald of Richmond beamed as she and 10 other family members watched her son, Rayvon, perform. He drew loud ovations after he sang the national anthem and his hit song, "Believe," backed by the Richmond Symphony and music director Steven Smith.
"He loves performing and giving back to the community," his mother said.
Seated nearby were 20 cheering members of Antioch Baptist Church in Henrico County, which Rayvon attended as a youth.
"We are happy to be here to fellowship with our brother, Rayvon," said Antioch member Ellen Sailes.
Antonio Goode, a junior at Armstrong High School, wore a big smile as he and the 12 other members of the Richmond Cycling Corps prepared to ride their bikes down a grassy path through the middle of the audience to the front of the stage.
"This is exciting and important to us," the young man said. "We're being recognized for what we do along with the best bike riders in the world."
Nearby, Allen Peoples of Franklin Military Academy in the East End, held a flag representing the small European country of Andorra. He and 73 other students from Richmond, Henrico and Hanover schools marched to the stage holding flags representing the countries competing in the UCI championships.