Community turns out to mourn Alicia Rasin
10/23/2015, 7:14 a.m.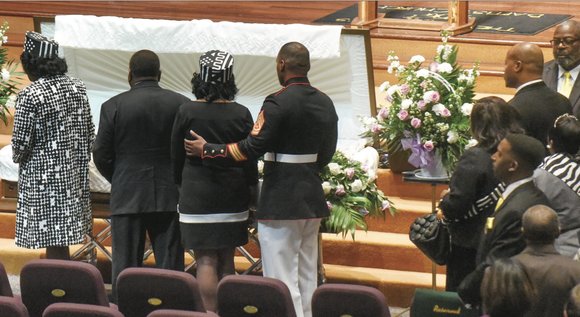 God chose Alicia Rasin to serve the city's poor, forgotten and downtrodden.
That was the message the Rev. Leonidas Young II passionately delivered to hundreds of people who attended the funeral service Saturday for Ms. Rasin at Saint Paul's Baptist Church in Henrico County.
Before she succumbed to heart failure Oct. 9, Ms. Rasin, known as the city's "Ambassador of Compassion," became a beloved figure in the community for leading prayer vigils for the families of homicide victims in Richmond for more than two decades.
In the early 1990s, she founded Citizens Against Crime to comfort the victims of crime and became a critical bridge between law enforcement and the community.
"Though we come today to celebrate Alicia, this occasion is not about Alicia," said Rev. Young, pastor at New King Christian Ministries on North Side. A former Richmond mayor, Rev. Young formerly served as Ms. Rasin's pastor at Fourth Baptist Church in the East End.
"It's about a God who decides to go to a house on Princess Anne Avenue, not in Winsdor Farms, but in Church Hill," he said.
From her family home on Princess Anne Avenue, Ms. Rasin provided food and clothing to the needy and gifts to children despite various illnesses and afflictions throughout her adult life.
"Why did somebody who is frail, who is suffering, who has few resources, who holds no office … why would God choose somebody like that? Because that's who God is, that's what God does and that's how God works in the lives of men," Rev. Young told the crowd.
Mayor Dwight C. Jones, Police Chief Alfred Durham, City Council President Michelle R. Mosby, City Council member Cynthia I. Newbille and Free Press President/Publisher Jean Patterson Boone were among those who attended the service.
School Board Chairman Donald Coleman, who was a neighbor of Ms. Rasin, arrived at the church early to pay his respects.
"Alicia Rasin represented what our city needs more of — people with a heart and compassion, specifically for people who are going through tremendous tragedy," he told the Free Press.
Mayor Jones called Ms. Rasin "an angel of mercy."
He told the assembly that people in the community trusted Ms. Rasin and gave her information about crimes that they wouldn't give to the police.
"I've had three chiefs of police to serve under me and I told each of them, 'You be good to Alicia Rasin because she can help you get your job done. Matter of fact, she can help you keep your job.' ''
He said Ms. Rasin was "perhaps the most important unappointed, unelected, under-recognized citizen that Richmond had."
He vowed to "make sure her life's work will somehow, some way be recognized."
Chief Durham called Ms. Rasin "a bridge over troubled water, the troubled waters being the crime-ravaged communities of the past here in Richmond, the insurmountable senseless murders that once plagued her beloved city, families torn apart and those who were and still are experiencing a sense of helplessness and hopelessness."