Richmond Ambulance Authority wins top U.S. award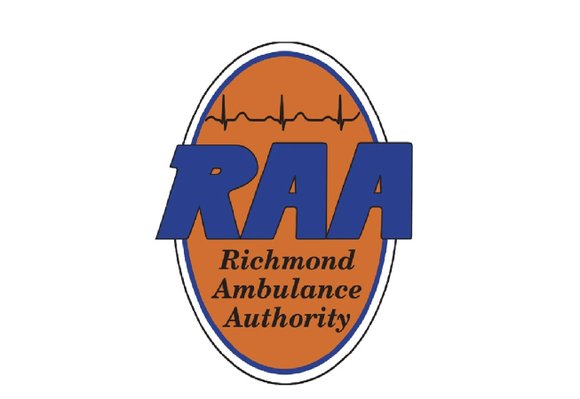 The Richmond Ambulance Authority has earned national recognition for its innovations in pre-hospital care and community outreach.
It also has been honored for its efforts to share its research and knowledge with other EMS agencies throughout the world in order to provide more effective life-saving aid.
RAA has been recognized with the prestigious National Association of Emergency Medical Technicians' and EMS World's 2015 Dick Ferneau Career EMS Agency of the Year Award.
The award goes each year to one agency in the United States for its outstanding achievements and contributions in emergency health care, according to a release announcing the award.
RAA officials accepted the award at the EMS World Magazine Expo in September in Las Vegas, according to RAA spokesperson Rob Lawrence.
Chip Decker, chief executive officer of the RAA, said, "This award isn't just about the year or decade of work we have put into being as good as we can be. It also reflects our efforts to have a workforce that is happy, safe, engaged and clinically focused," he added.
RAA is located at 2400 Hermitage Road, near The Diamond baseball stadium.
Nancy Perry, editorial director of EMS World, stated, "What is particularly notable about RAA is the agency's willingness to share its research, findings and programs freely with the world of EMS to ensure we all benefit from its groundbreaking and thoughtful work."
Terone Green, chair of RAA's 11-member board, told the Free Press that the authority's successes would not have been possible without the backing of Mayor Dwight C. Jones and other city administrators.
"We can't do these things alone," he said. "We have to have the city administration to support us in our endeavors, and they have been very good at doing that."
RAA, comprised of 250 employees, was selected largely for its fast and efficient life-saving services throughout the city and for its innovative programs that benefit patients and employees alike, Mr. Lawrence said. 
He said that RAA's fleet of 39 ambulances responds to approximately 200 calls per day and transports on average 140 patients to area hospitals and other medical facilities.
The authority's emergency response times, he added, are among the fastest in the nation, with ambulances on the scene of life-threatening emergencies in less than 8 minutes and 59 seconds in more than 90 percent of all responses.
RAA also is one of only 22 EMS agencies in North America accredited by both the Commission on the Accreditation of Ambulance Services and the National Academies of Emergency Dispatch.
On the patient care front, RAA was one of the first EMS systems in the nation to use mechanical CPR to provide consistent and high-quality chest compressions. RAA also uses therapeutic hypothermia during cardiac arrest resuscitation, which cools the body to preserve brain function. 
The authority's innovation also includes its use of vehicles that are equipped with solar panels to reduce engine idle time and fuel consumption.
RAA also recently implemented the FirstPass system. The new patient record software collects data from each call and allows RAA to track trends in clinical behavior, make adjustments and provide additional training to paramedics accordingly.
The authority also instituted a fitness program to educate staff about the importance of a healthy lifestyle. 
In outreach efforts, RAA partners with many organizations, including the Richmond Redevelopment and Housing Authority and the Richmond Office of Multicultural Affairs to teach hands-only CPR classes, including some in Spanish.
For years, RAA has had a significant impact on EMS internationally, most recently with its partnership with the Panamerican Trauma Society. Trauma surgeons from Central and South America come to Richmond to participate in this international observer program. 
Additionally, RAA serves as part of the U.S. Air Force pararescueman training pipeline and provides clinical placements for these trainees at least once a year.
The Rider Alert motorcycle safety program, launched by RAA in 2011, has taken off on a worldwide basis. Rider Alert cards, which are placed inside helmets, have next of kin and contact information to aid attending EMS personnel or emergency department staff when an injured motorcyclist cannot communicate. 
RAA also launched the Crossing Alert program and created a YouTube video about paying attention and being safe when crossing the street.