Maya Angelou's art collection up for auction
Associated Press
NEW YORK
The art collection of celebrated writer and civil rights activist Maya Angelou is heading to auction this month.
Among the highlights of the Sept. 15 Swann Galleries sale is a painted story quilt that hung in Dr. Angelou's home. It's a work by African-American artist Faith Ringgold titled "Maya's Quilt of Life" that was commissioned by Oprah Winfrey for Dr. Angelou's 69th birthday in 1989. It depicts Dr. Angelou surrounded by flowers, along with excerpts from some of her writings. It's an acrylic on canvas with pieced fabric border that could bring $150,000 to $250,000.
The nearly 50 pieces of art were consigned to the auction house's African-American Fine Art Department by Dr. Angelou's estate. They're expected to draw $400,000 to $640,000.
Dr. Angelou died last year at age 86.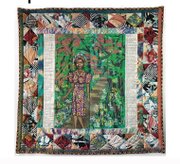 Her son, Guy Johnson, said in an introduction to the auction catalog that "her family hopes that the art which added color and character to her daily life does the same for others."
Her collection reflects her interest in female artists such as Elizabeth Catlett and Phoebe Beasley and African culture.
"Kumasi Market," an oil and acrylic painting of a crowded Ghanaian market scene by African-American muralist John Biggers, is estimated to bring $100,000 to $150,000.
"The Obeah's Choice," a watercolor by Romare Bearden of two African-Caribbean women, has an estimate of $20,000 to $30,000. And a painting by Jonathan Green, "Wading in the Surf," could bring $8,000 to $12,000.
The quilt is the only one by Ms. Ringgold to ever come to auction. It measures 6 square feet and includes passages from Dr. Angelou's "Just Give Me a Cool Drink of Water 'fore I Diiie," "Gather Together in My Name," "The Heart of a Woman" and "I Know Why the Caged Bird Sings."
"Just as Dr. Angelou continues to serve as a source of inspiration for countless artists, writers and performers, she also found inspiration in the works of others," her son wrote in the catalog.
"For my mother, paintings, sculpture, dance and music were ways of translating the intangible into digestible bites; these forms of art were ways of expressing feelings and emotions that resisted the confinement of words," Mr. Johnson said.
Earlier this month, the contents of Dr. Angelou's home in Winston-Salem, N.C., were sold during a three-day estate sale.
Her personal papers, including letters to Malcolm X and James Baldwin, are housed at the Schomburg Center for Research in Black Culture, a research unit of the New York Public Library.
The artwork will be on view at Swann Galleries from Sept. 9 through Sept. 11.