VUU Panthers on the prowl for second victory
Fred Jeter | 9/11/2015, 1:08 a.m.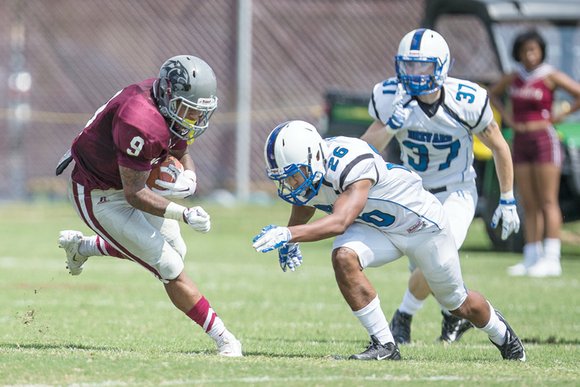 GAME UPDATE:
St. Augustine's officials announced the location for Saturday's football game against Virginia Union University has changed. The game will be played at John H. Baker Stadium at Southeast Raleigh Magnet High School, 2600 Rock Quarry Road, in Raleigh, N.C. Kickoff is at 1 p.m.
Freshmen Hakeem Holland and Lamar Webster are the dual dynamos that fueled Virginia Union University's maroon and steel football engine last Saturday.
Perhaps benefitting from the surprise factor, the fledgling Panthers' running backs contributed mightily to a 35-21 opening victory over Brevard College of North Carolina before a crowd of 7,245 fans at Hovey Field.
Holland zigged and zagged for 101 yards and a 37-yard touchdown on just eight carries.
"He's got legit 4.3 speed (for 40)," said VUU Coach Mark James.
The pile-driving Webster powered 14 times for 66 yards and three touchdowns on runs of 1, 2 and 8 yards.
"One of the tougher runners I've seen. A hard-nosed kid," said James.
A third freshman ball carrier, Morris Jackson from Atlee High School in Hanover County, had seven carries for 58 yards.   
Now attention shifts to Raleigh, N.C., where the Panthers will face CIAA rival St. Augustine's 1 p.m. Saturday, Sept. 12, at George Williams Athletic Complex.
The Falcons are smarting from a 72-0 opening loss at North Carolina Central University.
Saturday's game will mark the first time VUU and St. Augustine's have met since 2011, when VUU prevailed 12-0 during the midst of Hurricane Irene in Richmond.
The Panthers and the Falcons have met nine times in a rivalry dating to 1929, with VUU holding the 8-0-1 series lead.
Alternating quarterbacks Shawheem Dowdy and Austin Parker combined 11-for-18 passing for 131 yards against Brevard College, but VUU was most effective on the ground.
With Holland and Webster operating behind a crunching line led by Addison Hayes, VUU rushed 34 times for 199 yards, averaging nearly six yards a tote.
Meanwhile, a VUU defense led by senior linebacker Joe Blanks limited Brevard to just 116 yards on 50 carries — a puny 2.3 yards per rush.
Last year, Brevard ranked No. 6 in the NCAA Division II, with 322 yards per game overland.
Blanks made 12 tackles while adding an interception.
Others stepping up defensively were Miles Pace, Mike Brown and Jean Prophete, all from Florida.
Holland and Webster were both playing their inaugural college games against Brevard.
From Baltimore, Holland is a 5-foot-11, 190-pound sprinter out of St. Frances Academy.
Webster is a 6-foot-1, 220-pound speed/power combo out of Lynchburg's Liberty Christian.
The Newark, N.J., native lived in Richmond and attended Benedictine before moving to Lynchburg.
Another new weapon in VUU's arsenal is Andre Coble, who snagged a 27-yard touchdown pass from Dowdy in the 21-point fourth quarter.
Coble is listed as quarterback on the roster but will concentrate on receiving for VUU. From Meadowbrook High School, Coble transferred to VUU from James Madison University.
At Meadowbrook, Coble played under Troy Taylor, now the VUU quarterback coach and area recruiter.
VUU figures to rotate kickers as well as quarterbacks.
Freshman Beymar Piraquive from Miami was 4 for 4 on extra points and kicked off once for 55 yards.
From Southampton High School, freshman Russell Ballance kicked one extra point, punted three times for a 40-yard average and averaged 51 yards on four kickoffs.