Morrissey fails to withdraw officially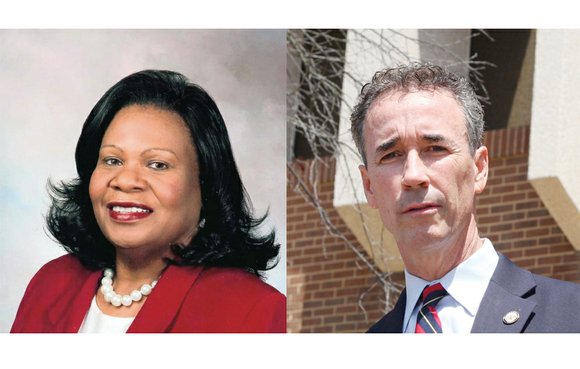 Two weeks ago, attorney Joseph D. "Joe" Morrissey told the Free Press and other news outlets he was ending his campaign for the state Senate because of a health issue.
However, Mr. Morrissey has not provided the Virginia Department of Elections with an official notice of his withdrawal from the contest in the state's 16th Senate District against incumbent Sen. Rosalyn R. Dance, a Democrat of Petersburg.
Mr. Morrissey, who is listed as an independent, confirmed Monday that he has not sent a withdrawal letter to the department or to the state Board of Elections, its oversight board. He is still listed as a candidate on the ballot for the Nov. 3 election.
He also indicated he has no intention of submitting a withdrawal letter.

"I have withdrawn," Mr. Morrissey stated in a message to the Free Press in response a query about his status. "If SBE (State Board of Elections) wants to remove my name (from the ballot), so be it. If people want (to cast) a protest vote against Roz (Sen. Dance), that's also Ok with me."
Asked for her view, Sen. Dance stated in an email Wednesday: "While I, like many others, am perplexed about why Mr. Morrissey says he is withdrawing yet doesn't file the appropriate paperwork, none of it changes what I am doing.
"I will continue to work hard everyday to earn the support of the voters in my district."
The Senate district stretches from Richmond's East End to Sen. Dance's base in Petersburg and also includes parts of Hopewell and Chesterfield, Dinwiddie and Prince George counties.
There will be no change in the ballot, according to Richmond Voter Registrar Kirk Showalter. She said Tuesday that the elections department already has notified voter officials in the 16th Senate District "to proceed with absentee voting with (Mr. Morrissey's) name on the ballot."
Absentee voting, and the mailing of absentee ballots, began Sept. 16.
Ms. Showalter said ordinarily when a candidate withdraws, the individual notifies the state elections agency, which would notify her and other officials to include a notice of the withdrawal when sending absentee ballots to voters. In addition, she said she also would post a notice at the polls.
But she said that would not happen in the case of Mr. Morrissey unless he provides notice to the state elections agency that he has quit the race and the elections agency provides such notice to her.
"Newspaper articles do not count as official notice of withdrawal," she said.
Dr. Columba Nnorom, an adjunct political science professor at Virginia Union University, said the impact of Mr. Morrissey's action is uncertain as "politics is often as unpredictable as the weather."
He said Mr. Morrissey "will create confusion" because his name remains on the ballot, while the publicity about his withdrawal could "depress turnout because some voters might see no reason to vote since the challenger had 'withdrawn.' "
"Still, I think it very much depends on the type of campaign Senator Dance runs," Dr. Nnorom continued. "In a predominantly African-American district, one would think it would be an easy victory for the former Petersburg mayor."