Trial continued of Henrico cop charged in shooting
4/5/2016, 8:41 p.m.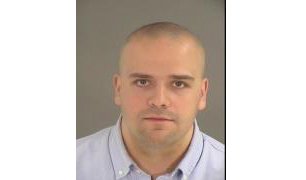 The case of a Henrico County police officer, who was charged with malicious wounding for shooting into a car and injuring a woman in mid-December, has been postponed for two months.
The trial of Officer Joel Greenway, which was set to begin Monday, was put off until Tuesday, May 31, at the request of the officer's lawyers.
Attorneys for the officer were granted more time to go through boxes of information that Henrico Commonwealth's Attorney Shannon L. Taylor provided in meeting disclosure requirements.
The officer remains free on a $10,000 bond.
A grand jury in late February indicted Officer Greenway for illegally discharging his weapon and seriously injuring the woman, Kimberly McNeil, who was a passenger in a car driven by her fiancé, Robert Davis.
The officer initially claimed that he fired after the driver tried to strike him while driving away from an Exxon gas station in the 3600 block of Nine Mile Road that the officer said was closed for business. He said the couple's car was suspiciously parked, and he was investigating around 10:30 p.m. on Dec. 16, according to the Henrico Police Department.

However, later details revealed that the gas station was still open and that the couple was preparing to drive off after buying gas when the officer accosted them.

According to the couple, the officer began firing into the car as they tried to leave, and that there was no attempt to hit the officer, who was standing beside the car.