Frantz, Traynor win Monument Ave. 10K
Fred Jeter | 4/15/2016, 6:36 a.m.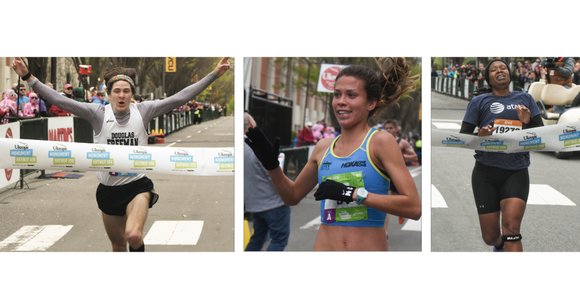 One step forward for the celebration of local athletes. One step backward for diversity.
That sums up the 17th running of the Ukrop's Monument Avenue 10K last Saturday with nearly 30,000 participants and streets lined with excited but chilled fans.
The annual footrace is organized by Richmond Sports Backers and has become a community event enjoyed by many.
Saturday's champion was Silas Frantz, 22, a former Douglas Freeman High School standout.
Frantz's time, while commendable, represents the slowest winning time in the history of the event. It also is 2 minutes, 28 seconds slower than that of Kenyan Julius Kogo in 2013, the last year elite African runners competed in the Monument Avenue 10K. Paul Chelimo of Kenya, a student at the University of North Carolina, Greensboro, and a member of the CRA, won in 2014.
For the third straight year, all prize money — starting with $2,500 for the men's and women's winners — was awarded only to members of the Collegiate Running Association.
The CRA is made up almost entirely of former college runners. Qualification for CRA membership requires enrollment in a college course.
Kenyan, Ethiopian and Somali runners had dominated the Monument Avenue 10K from its inception to 2013. After they were ineligible to win the cash prizes, they no longer have participated in the race. The nomadic "pros" aren't looking for pats on the back and plaques.
This deprived Richmonders of a chance to see some world class competitors. On the other hand, it opened the door of opportunity for the CRA, and Frantz in particular, who covered the 6.2-mile course in 30:46, just 18 seconds ahead of another CRA member, Ryan Hagen, of Fishersville.
Temperatures in the low 40s, with 10 to 15 mph northwest winds, may have been a factor in this year's finishing times. The breeze slowed westward-bound runners during the first half of the race, but assisted on the eastward return.
Frantz won $2,500 for being first overall and the first finisher from the area.
As a student at Henrico County's Freeman High School, he won the State Group AAA 3,200-meters indoors in 2011 and was third in the state outdoors at 1,600 meters.
Frantz went on to run for Georgetown University and is now taking graduate courses at the University of Virginia.
Born in Germany, he has dual German-U.S. citizenship and would be eligible for both nations' international squads.
The women's champion Saturday was Nicol Traynor, 26. On a morning when most people were bundled and shivering, Traynor, a former University of Richmond athlete, raced with bare midriff and bikini-style shorts. By comparison, Frantz ran in a long-sleeve shirt and gym shorts.
Traynor, now living in Hoboken, N.J., broke the tape in 34:01, 44 seconds ahead of her nearest competitor. While her time pales in comparison to the 32:25 posted by Kenyan Ogla Kimaiyo in 2013, Traynor wins $2,500.
The course records were set by Reuben Chebii of Kenya, 28:07, in 2004 and by Magdalene Makunzi of Kenya, 32:24, in 2007.
Another hometown victor Saturday was Arvat McClaine, 48, who earned $2,500 and loud cheers from spectators for winning the event's Dash for Cash.
The Richmonder was given a 2.8-mile (4.5 kilometer) head start before the first wave of runners. She ran her portion of race in 29:03, beating overall winner Frantz to the finish.
McClaine is the 10th winner in the 12 years the Dash for Cash has been part of the Monument Avenue 10K. She told reporters she plans to donate some of purse to the VCU Massey Cancer Center.