30,000 entrants expected for Saturday's Monument Ave. 10K
3/31/2017, 1:22 a.m.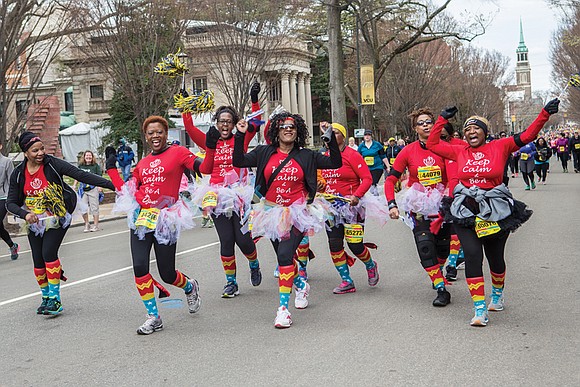 The annual Monument Avenue 10K, famous for its live bands and party atmosphere, has become a race for the swift and, yes, the not so swift.
Come one, come all — striding with a dog on leash, baby in tow or wearing a zany costume. Just about anything goes.
A majority of the expected 30,000 entrants in this year's 18th annual event will leave with some degree of satisfaction for having met personal goals or for having participated in what has evolved as one of Richmond's bold-letter activities.
For a select few, money is on the line. The top male and female finishers will receive $2,000, with prize money decreasing to $100 for 10th place finishers.
Last year's winners were native Richmonder Silas Frantz in 30.46 and former University of Richmond student Nicol Traynor in 34.01.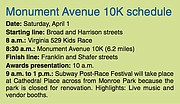 Frantz is a former Douglas Freeman High School and Georgetown University athlete who was taking graduate classes at the University of Virginia. Race organizers said he will return for this year's 10K.
Traynor, a New Jersey native and 2012 graduate of the University of Richmond, is now an assistant coach for New York University's men's and women's cross-country and track and field teams.

This marks the fourth year the prize money will be awarded exclusively to members of the Collegiate Running Association. To be eligible for the organization, a runner must be enrolled in at least one college credit-bearing class. The Monument Avenue 10K serves as the association's national 10K championship event.
As a sidelight, $2,500 is awarded to the winner of the AT&T Dash for the Cash in which an entrant — selected at random — is given a huge head start, often about half the race, to beat the first-place finisher.
Richmonder Arvat McClaine was the Dash for the Cash winner a year ago, outrunning Frantz to the finish line.
This year, Kathy Hoverman of Bon Air has been selected for the Dash for the Cash. She has run the Monument Avenue 10K several times in the past. If the elite runners finish before her, the $2,500 will be donated to the VCU Massey Cancer Center.
The winning times have become slightly slower since the sponsoring Sports Backers limited the prize money to members of the Collegiate Running Association.
Prior to the change, runners from Kenya and Ethiopia dominated the event. They have failed to attend since becoming ineligible for the prizes.
Kenyan Reuben Chebii set the men's record of 28.07 in 2004. Kenyan Magdalene Makunzi's 32.34 in 2007 is the women's record.