July 3 riverfront fireworks canceled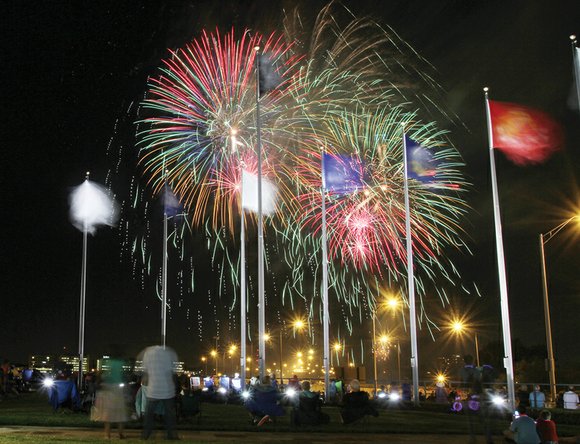 Richmond will have two fireworks shows to celebrate Independence Day on July 4th — the city's traditional show in Byrd Park and the Richmond Flying Squirrels' annual blast at The Diamond baseball stadium.
But the annual James River fireworks extravaganza on July 3 has been canceled.
After five years, the event's two corporate sponsors, utility giant Dominion and paper giant WestRock — formerly Mead- Westvaco — are no longer willing to provide the funding.
The companies jointly announced the decision recently, ending a five-year effort with City Hall and Venture Richmond to stage the state's largest fireworks show off Brown's Island.
The show was expensive. Although the companies declined to give specific figures, officials said the two companies forked out more than $100,000 a year to cover the costs. Public fireworks shows average about $30,000, according to fireworks companies.
It's not immediately clear why the sponsors pulled out, though this was not a show in which the companies received much attention.
Dominion spokesman C. Ryan Frazier said the purpose of the fireworks extravaganza "was to attract more people to the Downtown and the riverfront."
He said events like Dominion Riverrock, the food, music and outdoor sports festival in May, and the Richmond Folk Festival in the fall are doing that now. However, both of those festivals already were drawing crowds when the riverfront fireworks show started in 2011.
Dominion increasingly has wanted to have its name associated with whatever it sponsors, such as Dominion Riverrock and Dominion Arts Center and its newest project, the Dominion Charity Classic, a golf tournament on the PGA Champions tour, to be played in Richmond in late October.