Fight for $15
Low-wage workers bring message, movement
8/19/2016, 2:24 p.m.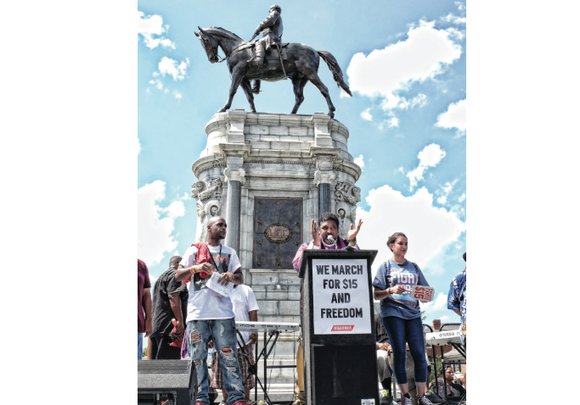 By Leah Hobbs
Laura Clark is a home care worker, yet she has no income.
The 53-year-old Caroline County resident cares for her 83-year-old mother, who suffers from dementia and COPD, but doesn't qualify to receive pay as a family caregiver because her mother has life insurance.
She said her daily struggle to keep things going in her own household makes her understand the plight of others working for minimum wage — $7.25 an hour.
That's why she joined several thousand people last Saturday to march and rally in Richmond in the "Fight for $15," a national movement to raise the minimum wage to $15.
Like Mrs. Clark, millions of workers in Virginia and across the United States don't earn enough to afford basic necessities.
The minimum wage, Mrs. Clark said, "is barely enough for a teenager to support themselves, let alone a family. The minimum wage should be a living wage."

Fight for $15 organizers strategically chose Richmond, the former capital of the Confederacy, for its two-day national convention to show the correlation between systemic racism and low-wage jobs.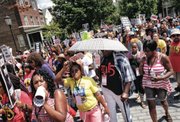 With streets closed to traffic, thousands of supporters from Detroit and Chicago to New York and Florida marched from Monroe Park to the statue of Confederate Gen. Robert E. Lee on Monument Avenue, where Dr. William Barber II, president of the North Carolina NAACP, addressed the crowd, many of them low-wage workers in fast food, home care and child care.
"Labor without living wages is nothing but a pseudo form of slavery," Dr. Barber said to applause. "You are right to raise up and declare we can't wait any longer. Hard-working people can't wait. Mothers trying to raise their children can't wait.
"It took 400 years to go from zero wages to $7.25. We can't wait another 400 years," he said.
Earlier Saturday morning, hundreds of protesters joined with local McDonald's restaurant workers who walked out on strike in Richmond's North Side. Workers said they want to send a clear message to fast food giants that they won't be ignored, but will fight for $15 an hour.
Mrs. Clark said she gets her mother up every morning, helps her use the bathroom, administers her medications, feeds her and keeps the house clean. During some of the hottest days of the summer, her air conditioner barely cools the house lower than 85, but she doesn't have the money to buy a new one.
"These are basic needs everybody deserves," she said.
Mrs. Clark said she's living off of the proceeds of her husband's life insurance. Working two jobs to support his family, he was killed in a car accident when he fell asleep at the wheel after working too many hours over the course of three days, she said.
She said she's uncertain what will happen once the money runs out, but she wants a better situation for her 26-year-old daughter and grandchildren.
"My parents marched with Dr. Martin Luther King Jr. for the same reasons we are marching," she said, referring to the 1963 March on Washington for Jobs and Freedom. "This fight shouldn't have lasted this long. I don't want my grandchildren to fight the fight my grandparents fought. People of color shouldn't have the same issues from generation to generation."
Some opponents of raising the minimum wage claim it would harm the economy. But Mrs. Clark disagrees.
"If you increase the minimum wage, that gives more spendable cash to everyone. Everybody is winning," she said. "The money will keep circulating. The more money you have in your pocket, the more money you'll spend."
She said she realizes many people may not understand her perspective and that of the marchers.
"The rich will never understand what it's like to be poor. Until they walk in our shoes, they'll never understand," she said.
Several people at the rally challenged politicians to live for a month on minimum wage. Organizers reminded people that change in America occurs through grassroots movements like Fight for $15.
Dr. Barber encouraged the people to keep advocating for the pay they deserve.
"When truth and justice have fought, truth and justice have never lost," he said.