Simone Manuel swims into history, Olympic record
Fred Jeter | 8/19/2016, 2:45 p.m.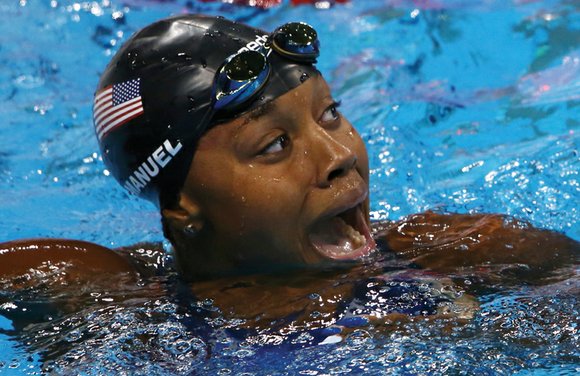 It has taken 31 Olympiads and 120 years, but finally an African-American woman has won an individual gold medal in swimming.
Simone Manuel, a 20-year-old junior at Stanford University, made history Aug. 11 by tying Canadian Penny Oleksiak for first place in the 100-meter freestyle in an Olympic record 52.70 seconds in Rio de Janeiro, Brazil.
Wearing red, white and blue nail polish, Manuel added another gold medal by swimming the anchor leg of the women's 400-meter medley relay last Saturday.
For good measure, the 5-foot-11 native of Sugar Land, Texas, won two silver medals. She placed second in the 50-meter freestyle last Saturday and in the 400-meter freestyle relay.
The gold medal in the 4x100 meter medley relay gave Team USA its 1,000th gold medal of all time.
Realizing her spot in history, Manuel said this at her post-race news conference:
"This medal is not just for me. It's for the African-Americans that came before me and have been inspirations and mentors to me. I hope I can be an inspiration for others."
So why has it taken so long?
By comparison, high jumper Alice Coachman Davis became first African-American woman to win an individual gold in track and field in 1948.
Many municipal swimming pools, especially in the South, barred African-Americans. So the inability to swim became generational for many families.
Even today, the Centers for Disease Control and Prevention's data show that African-American youngsters ages 5 to 19 die from drowning at a rate more than five times higher than that of their white counterparts.
Then there's the cost, availability and accessibility of the sport. Many inner-city pools are not Olympic-size and offer little in way of advanced lessons. Swimming then becomes a pricey sport, with year-round lessons at indoor, suburban facilities.
Manuel's success, however, shatters stereotypes that African-Americans can't swim and that black women don't like to swim because they don't want to ruin their hair.
"I've always felt that it's just hair," Manuel told the media. "It will grow back. I just wash and condition as I can. Swimming tops hair in my case."
African-American men beat their female counterparts to the winners' podium by 16 years.
Anthony Ervin won gold at the 2000 Olympics in Sydney in the 50-meter freestyle event. He added silver in the 4x100 freestyle relay.
At 35, Ervin followed that up in Rio with winning the gold in the 50-meter freestyle and 4x100 freestyle relay.
Cullen Jones won two gold medals — in the 4x100 freestyle and medley relays — in the 2008 Olympics in Beijing. At London in 2012, Jones took silver in the 50 meters and in the 4x100 freestyle relay.
On women's side, trailblazer Maritza "Ritz" Correia, a native Puerto Rican swimming for Team USA, took the silver in the 4x100 freestyle relay in 2004 in Athens.
Correia was the first female of African ancestry to make the U.S. Olympic swim team.
Lia Neal, 21, another Stanford University student, won the bronze in 2012 in the 4x100 freestyle relay and added silver in Rio in the same event, swimming with Manuel.
The first woman of African ancestry to ever earn an Olympic medal in swimming was Enith Brigitha, a native of Curacao swimming for The Netherlands.
Brigitha took the bronze in the 100-meter and 200-meter freestyle in 1976 at Montreal. She also swam in the 1972 games in Munich, failing to medal.
When Manuel won the gold in Rio, tears streamed down her cheeks as she stood victorious and historical on the podium.
Afterward, she told the media that it is OK to go against the flow — that the pool is cool.
"I see other blacks and African-Americans playing basketball, running and doing volleyball," she said. "So I think the hardest part was coming to terms with, you know, this is what you love to do, so you should do it."