Is Bolt the greatest sprinter of all time?
Fred Jeter | 8/26/2016, 9:57 a.m.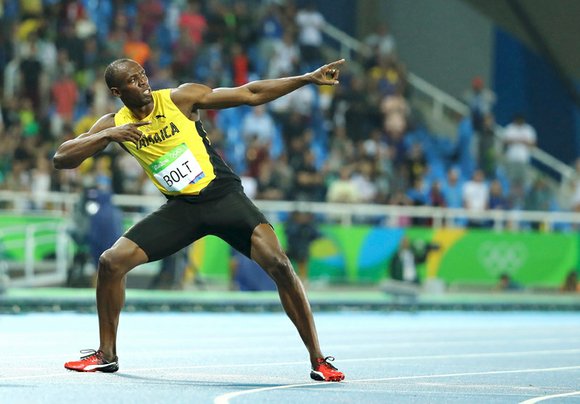 There is ample reason to label Usain Bolt the greatest Olympic sprinter of all time. But is he?
In support of American heroes, admirers of Jesse Owens and Carl Lewis may contest Bolt's kingly status.
The 6-foot-5 Jamaican completed an unprecedented "triple-triple" at the Olympics in Rio, winning gold in the 100- and 200-meter individual races and anchoring the 4x100 relay for gold, all for a third straight Olympiad.
A string of world and Olympic records are left in his long-striding wake.
Bolt went 9-for-9 in his gold medal quest, counting Olympics in Beijing in 2008, London in 2012 and Rio last week.
Before that, he was eliminated at age 18 in the 200-meter quarterfinals in the 2004 Olympics in Athens.
Bolt has been spectacular, no doubt.
But some sports enthusiasts argue that others were equally as brilliant before him.
In 1936 at age 22, Owens performed his own "track triple," winning the 100- and 200-meter races and racing for gold on the 4x100 relay team in Berlin, under the watch of German Chancellor Adolph Hitler.
While Owens' times weren't as fast as Bolt's, he set records in his day in the 100- and 200-meters and the 4x100 relay. He also won a gold medal during the games in the long jump competition.
Comparing performances across generations is unfair. For example, the pole vault record has gone from 14-6½ in 1936 to 20-2½ in 2014.
With ever-improving knowledge of legal nutrition training, especially weight training, as well as far greater financial incentives, athletes have become bigger, faster, stronger and wealthier.
Track was strictly an amateur activity in 1936 and there were no rumors of performance enhancing drugs.
Owens smoked a pack of cigarettes a day all his adult life. That's not meant to smudge his name. It's just what some men — even star athletes — did at that time.
Furthermore, today's track spikes are of higher quality than in 1936, and modern synthetic tracks are considerably faster than the old dirt, cinder and crushed stone ovals.
In 1936, sprinters did not use starting blocks. They just dug holes in the track from which to push off.
And then there is Owens' added accomplishment in the long jump. His "triple" was actually a "quadruple." In addition to winning three races, Owens also set the world record in the long jump — 26-8 — in Berlin, a mark that stood until 1960.
Owens was denied the opportunity to repeat when the 1940 and 1944 Olympic games were canceled during World War II.
Like Bolt, Lewis also enjoyed a long reign. 
Competing in four Olympics —1984, 1988, 1992 and 1996 — Lewis won 10 medals, including nine gold medals in the 100- and 200- meters, 4x100 relay and long jump.
In 1984 at Los Angeles Olympics, Lewis was a quadruple champ, claiming the 100- and 200-meter races, long jump and 4x100 relay.
Aside from Bolt, Lewis is the only man to win back-to-back 100-meter titles, albeit in 1988 following Ben Johnson's disqualification. All the while, Lewis was rated the premier long jumper on the planet.