Bolt's lightning career may end soon
8/4/2017, 9:38 a.m.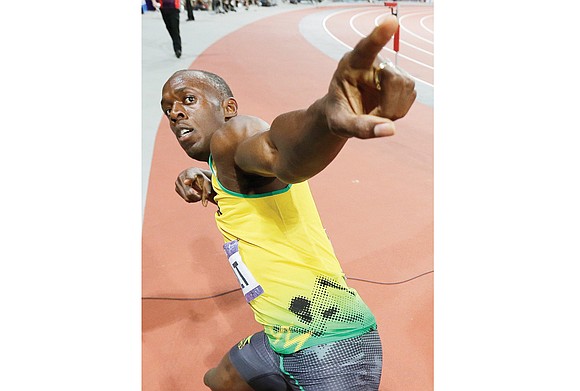 Usain Bolt may be nearing his final finish line.
The iconic Jamaican sprinter, long hailed as the "World's Fastest Human," has announced he is retiring following the upcoming IAAF World Championships in Athletics at London's Olympic Stadium.
The 100-meter preliminaries will be Friday, Aug. 4, followed Saturday, Aug. 5, by the semifinals at 2:05 p.m. and the final at 4:45 p.m.
The widely anticipated event will be televised by NBC.
Bolt, 30, said he will not compete in his other signature individual event, the 200 meters, although he has qualified. He may run on Jamaica's always-powerful 4x100 relay, with the final on Saturday, Aug. 12.
The  6-foot-5 Bolt, famous for his "To Di World" victory pose, won 100- and 200-meter titles at the 2008 Olympics in Beijing, the 2012 Olympics in London and the 2016 Olympics in Rio de Janeiro.
He also anchored Jamaica's victorious 4x100 relays at all three Summer Olympic Games, but the 2016 title was revoked when a teammate failed a drug test.
Bolt holds seemingly untouchable world records for the 100 meters (9.58 seconds) and the 200 meters (19.19 seconds).
Before Bolt, no man had ever won the Olympic 100 meters twice in a row on the track, much less three times.
American Carl Lewis won on the track in 1984 and finished second in 1988, only later to be named champion when first-place finisher Ben Johnson was disqualified.
Of late, Bolt has been active on the Diamond League circuit, winning the 100 meter on July 21 in Monaco with a time of 9.95.
Bolt's 100-meter competition in London could come from American Justin Gatlin, the silver medalist in Rio; Canadian Andre De Grasse, the bronze medalist in Rio; Ben Youssef Meite of Ivory Coast, Chijindu Ujah of Great Britain, Akani Simbine of South Africa and Americans Christian Coleman and Chris Belcher from North Carolina A&T State University.
The other fastest men on the planet have been chasing Bolt for a decade, with little to show for their efforts other than a view of Bolt's back during the race and his "To Di World" pose following it. 
But nothing regarding retirements is carved in stone. The extraordinarily popular Bolt, easily the world's top track attraction, could always have a change of heart.
So in case anyone is wondering, the 2020 Summer Olympic Games will be in Tokyo.