He's still the fastest: Bolt does it again
Fred Jeter | 8/27/2015, 8:10 a.m.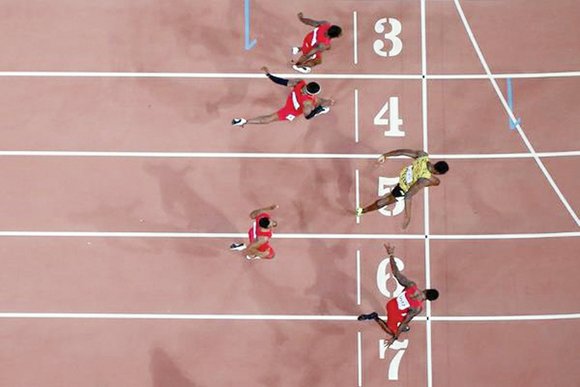 Bolt does it again
Usain Bolt still is the world's fastest human.
The 29-year-old Jamaican kept that title by nipping 33-year-old American Justin Gatlin in the 100 meters Sunday in the World Championships in Beijing, China.

Overcoming a wobbly start, Bolt zoomed from behind to break the tape in 9.79 seconds. Gatlin, who had been undefeated previously this year, took the silver at 9.80; Canadian Andre DeGrasse and American Trayvon Bromell tied for the bronze at 9.92.
Bolt now has won three World titles and two Olympic crowns in the 100 meters. And no one has come close to eclipsing his world record time of 9.58 that he set in Berlin in 2009.
He looms as the favorite in the 100 in next year's Summer Games in Rio de Janeiro, Brazil. No man has ever won three straight Olympic 100 titles. American track great Carl Lewis was the only other double winner; he did it in 1984 and 1988.
Track aficionados debate whom on the all-time list of runners would be the most capable of besting Bolt.
One answer is Jesse Owens, who won the 100, 200, long jump and 4-x-100 relay in the 1936 Olympics in Berlin, kicking mud on the Aryan supremacy nonsense of German Chancellor Adolf Hitler.
In Berlin, a busy Owens tied the world 100-meter record of 10.3 seconds and set Olympic records in the 200 (20.7 seconds) and the long jump (26 feet 5¼ inches). He also anchored the U.S. team's record-setting (39.5 seconds) quarter-mile relay.
Owens ran nine heats (in 100, 200, relay) in Berlin plus he expended energy in the long jump qualifying and the finals.
Now consider this: In 1936, Owens and other sprinters did not use starting blocks and ran on dirt/cinder tracks. In Berlin, the track also was soggy from intermittent rain.
He and other runners also used track spikes that were heavier than today's models, and there was little in the way of weight training or nutritional aids.
Also, track athletes in those days were unpaid amateurs. Today's stars, such as Bolt, make a good living on the Diamond League Pro Circuit.
And here's another thing: Owens dazzled the world in 1936 when he was just 23; he retired soon after. Many elite sprinters today are still competing into their 30s.
So a footrace between Bolt and Owens might be one of the top athletic attractions of all time. If he was still around, even Hitler might buy a ticket to that one.