Who will be next Usain Bolt?
Fred Jeter | 8/18/2017, 3:33 a.m.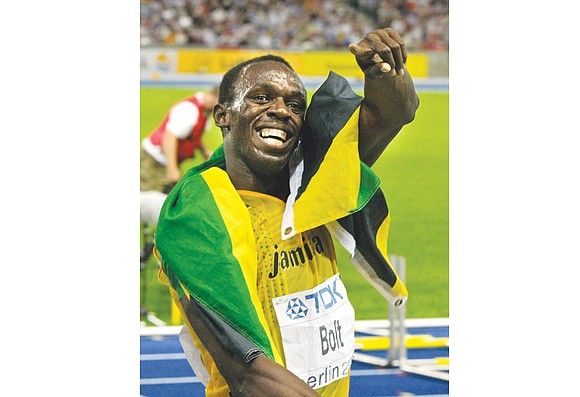 Track and field is looking for a new sprinting superstar. Who will it be?
There is a vacancy for the title of "world's fastest human" following the conclusion of Usain Bolt's unprecedented career at the World Championships of Athletics in London.
In what was billed as his final race on Saturday, Aug. 12, Bolt pulled up lame on the anchor leg of Jamaica's 4x100 relay. Suffering a lower leg cramp, Bolt tumbled to the track, wincing in agony. He had to be helped to the finish line by his countrymen.
Great Britain won the event in 37.47 seconds followed by the United States and Japan.
A week earlier in London, Bolt finished third in the 100-meter race to Americans Justin Gatlin and Christian Coleman.
Bolt had ruled the sprinting world since 2008, claiming eight Olympic gold medals and 11 world gold medals.
He retires still holding world marks for the 100 meters (9.58 seconds) and 200 meters (19.19 seconds).
So who will be next at the starting blocks as the main man?
Gatlin deserves the No. 1 ranking now, but at age 35, how much longer can he match strides with the global elite? Gatlin will be 38 by the 2020 Summer Olympic Games in Tokyo.
By contrast, Bolt is retiring at age 30.
Coleman and Trayvon Bromell, both 21, may be better suited to carrying Bolt's torch.
Others to watch are Canadian Andre de Grasse, 22; Jamaican Yohan Blake, 27; South African Akani Simbine, 23; and Chijindu "CJ" Ujah, 23, of Britian's victorious world relay quartet. All have gone 9.9 seconds or better for 100 meters, with their best years likely still ahead.
While Bolt may have raced into the sunset, never count out the Jamaicans for world dominance.
Since 1948, the Jamaican team's first year competing in the Olympics, Jamaican men and women have collected an astonishing 77 medals, all from 400 meters and down. The count includes 22 gold, 33 silver and 22 bronze.
And there are more up-and-coming runners from the Caribbean island. A leading light among teenage Jamaicans is Christopher Taylor, 17, with bests of 10.4 for the 100 meters, 20.3 for the 200 meters and 45.2 for the 400 meters. Taylor is the 400-meter champion in the U-18 CARIFTA Games for Caribbean nations.
A reminder: Bolt broke in as an age-group quarter miler in 2001 at the CARIFTA Games before concentrating on shorter dashes.