De Grasse racing toward 'world's fastest man' title
Fred Jeter | 7/3/2015, 1:15 p.m.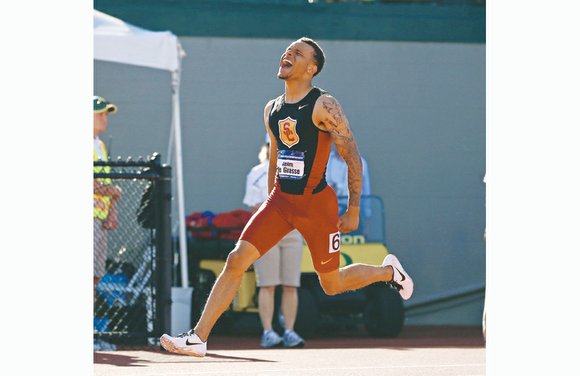 When the throne for "world's fastest man" eventually has a vacancy, Andre De Grasse seems primed to fill the seat.
Since 2008, the "world's fastest" title has been held by Usaian Bolt of Jamaica, a two-time Olympic gold medalist in 100- and 200-meter races.
De Grasse, 20, is among those who might challenge Bolt's status this summer and, most importantly, at the 2016 Olympic Summer Games in Rio de Janeiro.
Competing in June at the NCAA Championships in Eugene, Ore., De Grasse emerged as the "world's fastest collegian."
The 5-foot-10, 159-pound De Grasse hails from Markham, Ontario, in Canada, near Toronto, and is a rising senior at the University of Southern California.
At the NCAA's, De Grasse was spectacular in winning the 100- and 200-meter events, just 50 minutes apart.
De Grasse's clocked 9.75 second in running 100 meters, the second fastest time ever by a college athlete.
His 200-meter time of 19.58 seconds was the fastest ever recorded by a collegian. Due to a modest wind of about 5.5 mph — just above 4.7 mph maximum winds are allowed — his marks are unofficial.
Both his 100-meter and 200-meter times rank among the 10th fastest ever worldwide. Not surprisingly, he was named NCAA and Pac-12 Track Athlete of the Year.
A busy slate awaits him. First, De Grasse will race in the Canadian National Championships July 3 through 5 in Edmonton.
Next are the Pan Am Games July 10 through 26 in Toronto and the World Championships Aug. 22 through 30 in Beijing, China.
In Toronto and Beijing, De Grasse figures to challenge Bolt and also American Justin Gatlin, who has the world's fastest 100-meter time — 9.74 seconds — this year.
Gatlin, 32, won the 100-meters in the 2004 Olympics in Athens and took the bronze medal in the race in the 2012 Olympics in London.
"I feel I can run with those guys if I put my mind to it," De Grasse told the media following his victories in Oregon.
"I can't be afraid just because of their Olympic gold medals. I have to go out there and make a name for myself as well."
Bolt's world records of 9.58 in the 100 and 19.19 for the 200 were set in 2009 in Berlin. Now 28, Bolt hasn't been very active this season.
Other Jamaicans in conversation for "fastest man" are former Olympians Asafa Powell and Yohan Blake.
On a meteoric rise, De Grasse is clearly the new kid on the block.
He preferred basketball and didn't take up track until May 2012. He competed for two seasons at Coffeyville, Kan., Community College before transferring to USC.
For now, De Grasse has amateur status and may compete another season at USC. However, he has been offered some seven-figure shoe endorsement contracts and may turn professional.
He is in hot demand north of the border.
Although Canada has a history of great sprinters, the most famous were Caribbean imports who established Canadian citizenship as adults.
Donovan Bailey, the 1996 gold medalist in the 100 meters in Atlanta, was born in Jamaica. Bruny Surin, a member of gold medal 4x100 relay team in Atlanta, came from Haiti.
Donovan and Surin, both retired, share the Canadian record in 100 meters of 9.84 seconds.
Ben Johnson, a native Jamaican who competing for Canada, won the 100-meters gold medal in 1998 in Seoul, but his title was revoked for doping.
De Grasse is the son of Canadian Beverley De Grasse and Alex Waithe, a native of Barbados who works for a Toronto radio station.