Tree decision expected Feb. 13 on Maggie Walker statue site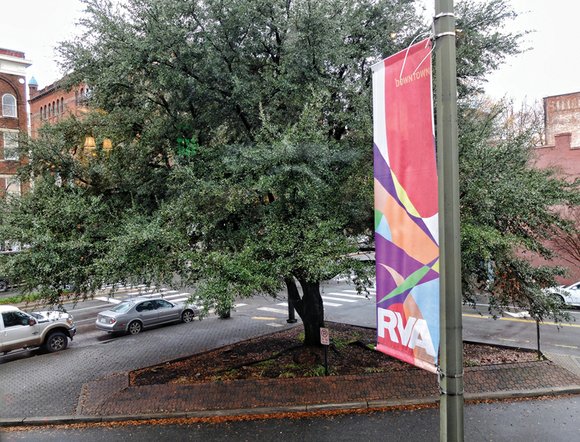 Tree or no tree?
That controversial question is expected to be decided this weekend as plans move forward to create a statue of Richmond great Maggie L. Walker at Broad and Adams streets — the Downtown intersection now dominated by a rare live oak tree.
The decision on whether to keep or remove the tree is to be made by the Richmond Public Arts Commission's seven-member Site Selection Committee, the commission disclosed Tuesday.
Led by architectural historian Sarah S. Driggs, the site committee will hold a public meeting and make its decision 3:15 p.m. Saturday, Feb. 13, at The Valentine, a museum of Richmond history, at 1015 E. Clay St.
Ms. Driggs said the committee "has sole discretion" to make the decision that will have a big impact on the design of the Walker monument and plaza that are to occupy the 6,000-square-foot site at the intersection.
As part of creating the space, City Council approved in December closing a historic segment of Brook Road — one of the city's and the state's oldest streets.
The tree has become a divisive symbol, with advocates calling it indispensable and opponents saying it would overshadow Mrs. Walker's statue and conjure up images of lynching if her likeness were put under it.
The quick decision on the tree is needed given the push to complete the project before Mayor Dwight C. Jones leaves office in December.
On Saturday, Feb. 20, the public is to get a first look at preliminary designs for the statue and the plaza at a public workshop the Public Arts Commission has scheduled at the Main Library for 10:30 a.m. to noon.
The sculptor, Antonio T. "Toby" Mendez of Maryland, and the plaza designer, Jean Garbier of VBH of Boston, are to present their ideas and seek feedback to help them flesh out the plans, according to Ellyn Parker, the commission's public art coordinator.
The commission could receive final plans for review at the April meeting. Some commission remembers consider the pace too fast, including Richmond sculptor Paul DiPasquale. At the commission meeting Tuesday, he suggested that the commission should consider "slowing down" in order to get the final product right.
One issue that has yet to be settled is the total budget for the project and whether the commission's funds would be used to pay for closing Brook Road and development of the plaza, said architect Susan Reed, chair of the commission.
City Planning Director Mark Olinger was expected to present preliminary budget figures Tuesday, Ms. Parker said, but he was absent from the meeting.
The Richmond Planning Commission has the final say on the designs.