Coalition strategizes to end violence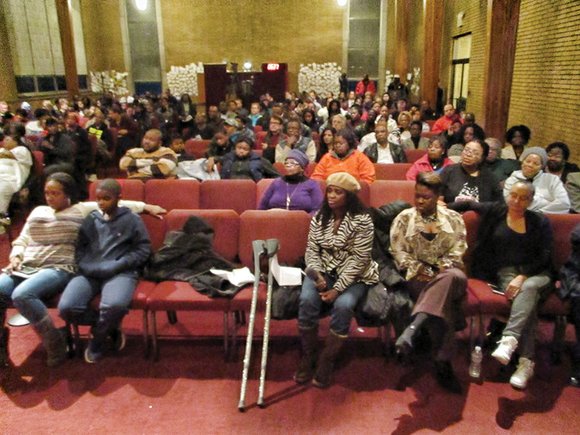 As nearly 400 people met at an East End church last week to discuss solutions to stem the tide of violence in the city, Richmond Police Chief Alfred Durham somberly rose to address the audience.
"Three more juveniles were shot during this session," he said, a look of anger and disgust etching his face.
Police later reported the three teens — two 15-year-olds and one, 16-year-old — were the victims of an apparent drive-by shooting on South Side. They were taken to a hospital with injuries not considered life threatening, according to police.
"When is it enough?" Chief Durham asked people attending the State of the Community Action Summit at Mount Olivet Baptist Church.
His rhetorical question drew groans, sighs and head shaking.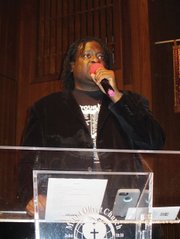 Community activist James E. "J.J." Minor III organized the summit with the backing of numerous community groups. Local radio personality "Miss Community" Clovia Lawrence moderated the event with Mr. Minor.
The event drew several elected officials, including City Council President Michelle R. Mosby, 9th District; City Council members Cynthia I. Newbille, 7th District, Ellen F. Robertson, 6th District, and Reva M. Trammell, 8th District; and School Board Chairman Jeffrey M. Bourne, 3rd District, and School Board members Mamie L. Taylor, 5th District, Tichi L. Pinkney Eppes, 9th District, and Kimberly B. "Kim" Gray, 2nd District.
Community members ranging from toddlers to teens to senior citizens also attended. Among them were 13 youths from the Salvation Army Boys & Girls Club in Church Hill.
"A huge population of our kids grew up in this area and many of them are exposed to violence and some have lost family members and friends to it," said Tyree Walker, teen director at the club. "We wanted to show our support for this cause."
JaShawn Oliver, a member of the Boys & Girls Club and a senior at Armstrong High School, said, "My mother's father was shot and killed in Church Hill. I never got to know him. It was hard on me."
He said he hopes young people learn that "you don't need to solve everything with violence."
In opening the summit, Bishop Darryl F. Husband Sr. of Mount Olivet asked God to supply "us with ideas" to "stop the madness of sending young people and others to their graves way too early."
The summit kicked off with a panel discussion with representatives of many of the organizing groups, including Dr. Charles Shannon of Greater Richmond Local Organizing Committee, Minister Tracy Muhammad of Muhammad Mosque #24, Marilyn Olds, president of the Richmond Tenant Organization; Kim Morgan, secretary of Mothers Against Violence; Dominique Crutchfield, a senior at Armstrong High School; Charles Willis, executive director of United Communities Against Crime; Maurice Tyler, founder of Coaches Against Violence Everywhere; and Joe'i Chancellor of Have a Heart 4 the Homeless.
Dr. Shannon, who led local and state efforts to mobilize people to attend the 20th anniversary commemoration of the Million Man March last October and is pastor at Mount Level Baptist Church in Amelia County, urged people to get involved to stop the violence.