Kory Cooley is VUU's secret weapon
2/19/2016, 8:23 p.m.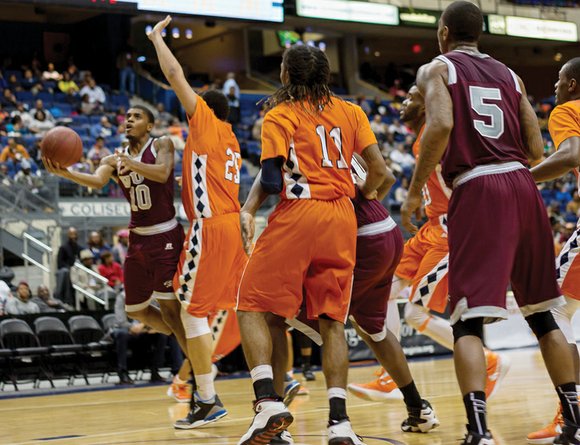 Art and arcs are two of Kory Cooley's favorite things.
The Virginia Union University sophomore concentrates academically on art. He also is the Panthers' leading marksman behind the basketball court's bonus arc.
Known as "Cools," he is VUU's most effective long-distance weapon and the ideal outside complement to All-CIAA player Ray Anderson, who excels attacking the rim.
The 6-foot-2, 180-pound transfer from the University of the District of Columbia made 46 of his first 116 three-point attempts (40 percent) for the Panthers.
"We needed some more pieces to put around Ray to take some of the pressure off him," said VUU first-year Coach Jay Butler. "He's definitely a talent, a big part of our program."
Entering this week, Cooley was averaging 12.5 points per game. In five games, he collected more than 20 points, most recently a 24-point eruption with six three-pointers in the Panthers' home victory last Saturday over Lincoln University of Pennsylvania. He had five three-pointers and 26 points earlier this month against Livingstone College.
The VUU offense often starts with freshman playmaker Ke'Andre Gibson (112 assists) at the point, joined by Anderson (20.5 point average) and Cooley on the wings.
Quicksilver Anderson ranks with elite players in beating his man off the dribble and streaking to the net for scores and fouls, or both.
Cooley is more comfortable taking aim from outside the 20-foot-9-inch semicircle.
Coach Butler and Cooley got to know one another at UDC, where Butler coached the women Firebirds.
"I used to watch him (Cooley) all the time. He's a gym rat," said Coach Butler. "Also, we got to know each on the (basketball) bus trips."
Virginia Union University and the University of the District of Columbia rarely compete nowadays, but they had a heated basketball rivalry in the early 1980s with Dave Robbins coaching at VUU and Wil Jones at UDC.
VUU won NCAA Division II titles in 1980, 1992 and 2004. UDC won the same crown in 1982 and was runner-up in 1983.
UDC was led by 6-foot-10 Earl Jones, an NBA first-round draft pick in 1984, and Michael Britt, a second-round pick in 1983.
Like VUU and many other HBCUs, UDC sends its men's and women's teams on the same bus for road games.
When Coach Butler got the VUU men's team coaching job last spring after Coach Tony Sheals, he gave Cooley an invitation to become a Panther.
"I'd always wanted to play in the CIAA," said Cooley. "Coach Butler asked me to be part of something special. I decided to help him out.
"My goal is to win the CIAA championship," he said. "But that's the goal of all of us."
Cooley has excelled at VUU despite an ankle injury that slowed him early in the season and a troublesome shoulder that may require postseason surgery.
Cooley was outstanding as a UDC freshman, leading the squad in scoring (16.3 points) and three-pointers (43 of 111 shots, 39 percent).
Born in Silver Spring, Md., Cooley moved with his family into Washington and attended Calvin Coolidge High School, helping the North D.C. Colts to the Inner-City title as a high school junior.