Pine Camp to host Virginia Opera program on Marian Anderson
2/19/2016, 9 p.m.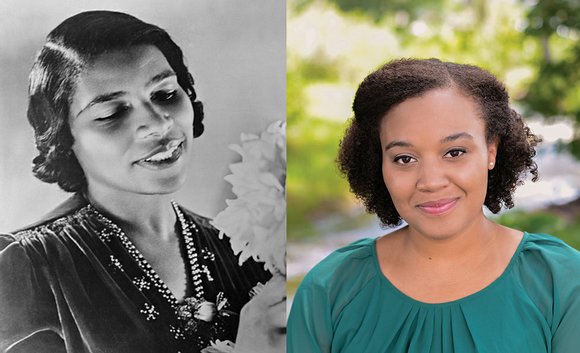 By Malik Russell
In 1939, singer Marian Anderson was denied the opportunity to perform at Constitution Hall in the nation's capital because of racism and segregation.
Her experience mobilized public outrage and gained the support of the national NAACP and other national organizations and First Lady Eleanor Roosevelt.
The result: Ms. Anderson performed a free concert for more than 75,000 people on the steps of the Lincoln Memorial as millions of others listened by radio.
Nearly eight decades later, Ms. Anderson's story and voice continue to inspire generations of young people during Black History Month.
This week, the Richmond Department of Parks, Recreation and Community Facilities will host the Virginia Opera's "Deep River: Marian Anderson's Journey." An opera created by Dr. Glenn Winters, "Deep River" brings Ms. Anderson's story to life through "spirituals, arias and art songs."
More than 100 students from after-school programs at Carver, Ginter Park, Overby-Sheppard and Stuart elementary schools in Richmond will attend the program 5 p.m. Friday, Feb. 19, at Pine Camp Arts and Community Center, 4901 Old Brook Road.
Free tickets are available to the public by reservation by calling Pine Camp at (804) 646-3677.
The 50-minute opera is designed to provide not only a history lesson but also lessons on utilizing one's talents to overcome prejudice and racism.
Dr. Winters, community outreach musical director for Virginia Opera, said he hopes that "young people seeing this production will be inspired by Ms. Anderson's work ethic, her total devotion to pursuing excellence and the humility with which she did so."
The opera features mezzo-soprano Taylor Raven as Ms. Anderson, baritone André Peele and pianist Wei-Li Suen.
According to Diane Hayes, director of cultural arts at Pine Camp, Ms. Anderson's story represents a way to utilize art to tell the stories of African-Americans, as well as to expose young people to diverse artistic cultures.
"Our whole purpose is to expose children to dance, art and music, and the Marian Anderson story gives us an opportunity to allow them to experience music and the creative process," said Ms. Hayes.
She points out that early exposure to various arts and culture plants seeds that eventually could yield the Marian Andersons of this generation.