Dogwood Dell blossoms with Festival of the Arts
6/5/2015, 8:46 p.m. | Updated on 6/5/2015, 11:11 p.m.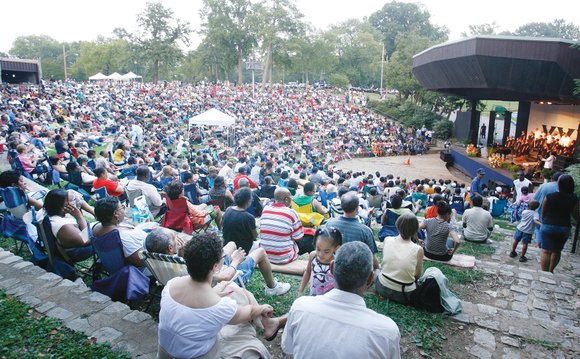 Richmond's free summer Festival of the Arts at Dogwood Dell will launch its new season Sunday, June 7, with a Renaissance-style fair and a production of Shakespeare's "Romeo and Juliet."
The fair will kick off 4 p.m. on the grounds of the 2,400-seat amphitheatre in Byrd Park. The event will feature a strolling magician, stilt walker and juggler eager to pump up the family fun. There also will be games, face painting and stage demonstrations of pratfalls and sword fights.
The day will be capped off with players from the Henley Street Theatre presenting the timeless tragedy of the star-crossed lovers at 8 p.m.
More than 45 shows will be presented for children and adults during the 59th edition of the summer festival. Most shows will be offered on the weekends.
The festival will feature bluegrass, soul and jazz concerts from the likes of Kris Davis and the Lonesomes, jazz performer David Esleck, jazz group KOS and funk artist James "Plunky" Branch Jr. and Oneness.
Festival highlights also will include the annual July 4 concert and fireworks celebrating Independence Day, the 8th Annual Latin Jazz Festival on Saturday, July 11, and the 6th Annual Gospel Festival on Sunday July 12.
The Broadway musical "Man of La Mancha" will open Friday, July 24, for five performances over successive weekends.
The festival will wrap up with a Native American Culture Event on Aug. 23 and Virginia Opera's "Opera in the Park" on Aug. 29.
Most shows will be presented at Dogwood Dell. There will be children's shows at the nearby Ha'Penny Stage. Also, at least nine children's productions will be offered at the stage at Pine Camp through the summer.
Shows and times: (804) 646-1031 or richmondgov.com/parks.