60th Annual Festival of Arts starts Friday at Dogwood Dell
6/3/2016, 12:08 p.m.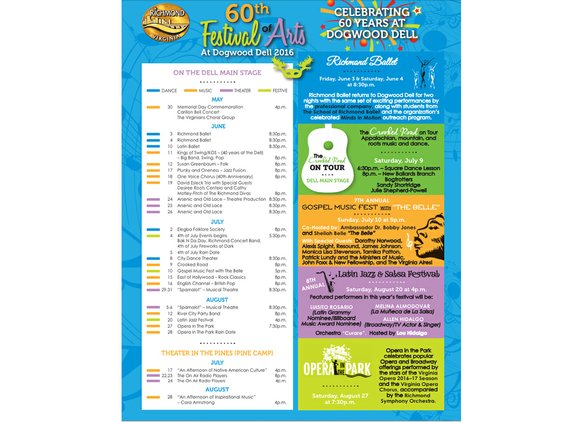 Some of the area's best musical groups will be featured this summer at the 60th Annual Festival of Arts at Dogwood Dell.
The festival, sponsored by the City of Richmond, gets underway this weekend and will feature free dance, music and theater performances and festivals.
Opening the summer festival will be the Richmond Ballet with performances at 8:30 p.m. Friday, June 3 and Saturday, June 4.
Other favorites slated to perform during the summer are Plunky and Oneness, One Voice Chorus, Desiree Roots Centeio and Cathy Motley-Fitch of The Richmond Divas and the Elegba Folklore Society.
Other highlights include a Gospel Music Fest hosted by Dr. Bobby Jones and Sheilah Belle, a Latin Jazz & Salsa Festival and Opera in the Park.
Theater and musical productions will include "Arsenic and Old Lace" and "Spamalot."
For detailed information, including a schedule, go to www.richmondgov.com/parks/programmingdogwooddell.