2017 Festival of Arts at Dogwood Dell kicks off with Memorial Day concert
5/26/2017, 6:23 p.m.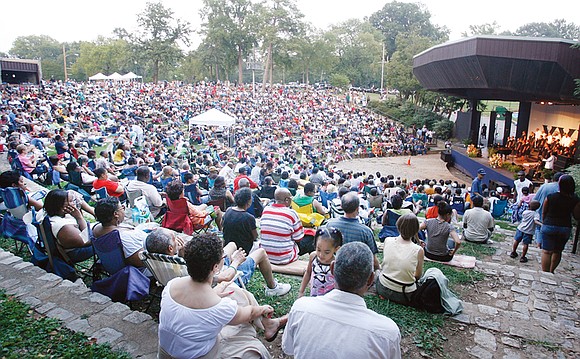 The Festival of Arts will launch its 61st season of public entertainment with a Memorial Day concert at Dogwood Dell amphitheatre in Byrd Park.
At 4 p.m. Monday, May 29, the 11-member James River Bell Ringers will serve up music on the stage under the direction of Dr. Lynn Atkins, the handbell group's second artistic director in its nearly 20-year history.
The concert is the first of 21 separate shows that will be showcased this season for the Festival of Arts, which is a production of the Richmond Department of Parks, Recreation and Community Facilities.
Another highlight of the festival will be the musical comedy, "Thoroughly Modern Millie," which will play the last weekend of July and the first weekend in August on the Dogwood Dell stage.
Eight shows for children also are planned, with three at the Ha'Penny Stage in Byrd Park by the Carillon and five at the theater at Pine Camp Arts & Community Center on North Side.
The festival will kick off in earnest 8 p.m. Sunday, June 18, with the Richmond Men's Chorus and continue through Friday, Aug. 18, with indie rocker Janet Martin wrapping up the season at Dogwood Dell with an 8 p.m. show.

The traditional July 4th celebration concert and fireworks will take place and include performances by the City Dance Theatre and the Richmond Concert Band. Additionally, the 8th Annual Gospel Music Fest will take place 5 p.m. Sunday, July 9.
Shows also will include a performance from Richmond's Plunky and Oneness at 8 p.m. Friday, June 30; an orchestral-choral concert that Richmond music teacher, saxophonist and composer Samson Trinh will lead 8 p.m. Saturday, July 1; and a presentation of African dance by the city-based Ezibu Muntu troupe at 8 p.m. Friday, Aug. 11.

A tribute to the golden age of radio will take place at the Pine Camp Theater, 4901 Old Brook Road. Three shows are planned — one at 7:30 p.m. Saturday, July 22, and shows at 4 p.m. and 7:30 p.m. on Sunday, July 23.
And the popular 10th Annual Latin Jazz & Salsa Festival will move to Broad Rock Park at Broad Rock Boulevard and Warwick Road for a festival grand finale from 2 to 7 p.m. Saturday, Aug. 26.

Full schedule: www.richmondgov.com/parks.