Petersburg roils with turmoil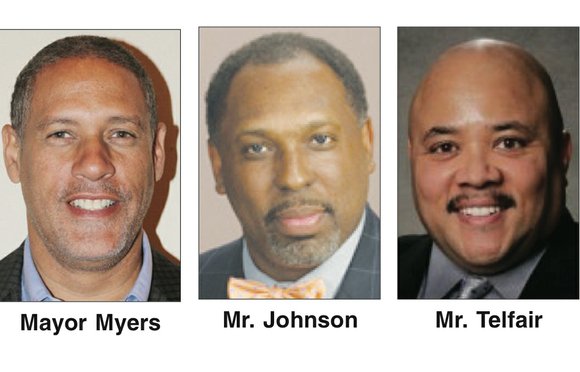 There's trouble in Petersburg.
Petitions are being circulated to remove Petersburg Mayor W. Howard Myers.
Separately, a majority of the Petersburg City Council has voted to begin talks to remove Petersburg City Manager William E. Johnson III and City Attorney Brian K. Telfair, although some are questioning whether the action came at a legal meeting.

All of this comes as residents are venting over the way the city is being managed, over sky-high water bills and about property tax bills that are arriving close to the deadline for payment.

The city with a majority African-American population 23 miles south of Richmond is obviously in an uproar.
Whether ultimately there is a shakeup in the city's leadership remains a question as residents' anger and concerns reach a boiling point.
The latest evidence came Wednesday when the Free Press received an email that included a copy of the petition being circulated in Ward 5, which Mayor Myers represents.
His fellow council members elected him mayor after he won re-election to the Ward 5 seat in 2014. But at least some of his constituents are blaming him for the city's problems.
The petition outlines no specific allegations, but cites a state law that authorizes the Circuit Court to remove an elected official if it is found the official was involved in "neglect of duty and/or misuse of office and/or incompetence in the performance of his duties having a material adverse effect upon the conduct of such office."
To get into court for a hearing, organizers of the petition drive would have to collect the signatures of at least 86 registered voters living in the ward, or 10 percent of the 852 voters who participated in the Ward 5 election two years ago. There are 3,051 registered voters in the ward, according to the state Board of Elections.
Reached Wednesday afternoon, Mayor Myers laughed when he was asked about the petition. Then he said, "I have no comment at this time."

The petition drive follows a special meeting Feb. 18 when five of the seven council members voted to begin negotiations to end the tenures of Mr. Johnson and Mr. Telfair. However, the council may not have provided the public three-day notice required by state law, raising questions about whether the vote was valid.

Upset, Mr. Telfair sent an email rant at 5 a.m. the next day that seemed to indicate he had resigned.
"I decided that I needed a month or two of me time. Despite what's being reported in the media, I made the decision … My girls, my health and my life are too important for me to continue on this path. … I just might return one day, but in a different role," he said in the email.
Reached Wednesday, Mr. Telfair disavowed the statements he wrote. "I did it at a low point," he said.
He said he has not resigned, but remains uncertain about his status.

Mr. Johnson was not available for comment.
The council would have to approve big checks for the two men if it actually ended up forcing their resignations.