VCU on the rise
2/26/2016, 5:30 a.m.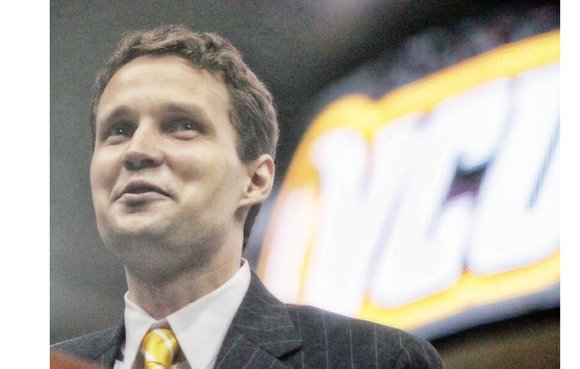 Virginia Commonwealth University's offensive efficiency is on the rise under first-year basketball Coach Will Wade.
The Rams are shooting better and scoring more than during former Coach Shaka Smart's sparkling six-year run (180-65 record, five NCAAs).
After beating the University of Richmond 87-74 last Friday at the sold-out (7,657 fans) Siegel Center, the Rams are averaging 78.3 points while hitting .457 from the field.
By comparison, the Rams averaged 72.5 points in Coach Smart's final season, hitting .419 from the field.
The Rams are soaring in the standings as well as statistically.
VCU's victory over the Spiders vaulted the Rams into first place in the Atlantic 10 Conference. VCU is a game up on St. Joseph's and Dayton and two up on St. Bonaventure.
Only in Coach Smart's first season (2009-10) did VCU shoot better (.462 while in the weaker Colonial Athletic Association) than Coach Wade's current team.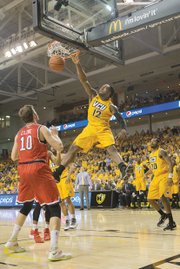 No Smart team ever scored as much per game as Coach Wade's club is doing now.
During a three-game winning streak over St. Louis (85-52), Rhode Island (83-67) and UR, VCU tallied at least 80 points while hitting more than 50 percent each game.
Overall, Coach Wade's first edition team has scored more than 80 points on 13 occasions and reached 90 four more times.
The Rams revved their engines in dismantling a slower UR outfit that was hopelessly outmatched on defense. Led by Melvin Johnson's 20 points, VCU hit .530 from the field (35 of 66), .500 behind the arc (11of 22) and 1.000 at foul line (6 of 6).
After leading 42-38 at the half, the Rams nailed their first six 3-pointers during the second half, extending their lead to as much as 18 points.
"M3LVIN'S" four 3-pointers tied him with B.A. Walker (127 games, 2003-2007) for career threes with 269. Johnson's total has come in 134 games.
The senior from New York City has 93 3-pointers this go-round to pull within striking distance of the all-time seasonal leader Troy Daniels (124 in 2013).
Johnson, averaging 18.2 points overall, is a solid Atlantic 10 Player of the Year candidate.
Other VCU statistical leaders:
JeQuan Lewis: Assists (135) and free-throw shooting (.849).
Mo Alie-Cox: Blocked shots (42).
Justin Tillman: Rebounds (5.7 per game), shooting percentage (dunk-aided .587).
Doug Brooks: Steals (60).
The frenzied style billed as "Havoc" lives at VCU even though its originator, Coach Smart, is now coaching at the University of Texas.
Often the aggressor, VCU has forced 452 turnovers compared to 323 by its opponents. That gives the Rams a Plus 129-plus in possessions.
The Rams are now 49-27 against UR since 1976, and have won at least 20 games for 10 straight seasons.
The fans are buying what the Rams are selling. The full house for the game against UR was VCU's 82nd straight sell-out.
Gazing forward, the Rams will lose seniors Johnson and Korey Billbury (11.2 points, 4.6 rebounds) but reinforcements have been sighted.
Coach Wade redshirted two freshman, 6-foot-9 Johnathan Nwankwo from Bronx, N.Y., and 6-foot-1 Samir Doughty from Philadelphia.
Incoming recruits are 6-foot-6 De'Riante Jenkins of Santee, S.C., 6-foot-4 Malik Crowfield of LaPlace, La., and 6-foot-5 Marquell Fraser of Hamilton, Canada.
Jenkins has helped the postgraduate squad at Hargrave Military Academy in Chatham, Va., to a 41-1 record.