Auditor: Top city administrator used city time to work on mayor's church
Jeremy Lazarus | 1/8/2016, 8:19 a.m. | Updated on 1/8/2016, 8:19 a.m.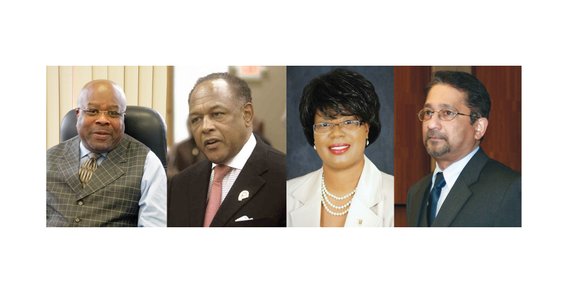 Mayor Dwight C. Jones, who also serves as senior pastor of historic First Baptist Church of South Richmond, scrambled Wednesday to contain a potential scandal involving a top member of his administration who attends his church.
The mayor's goal: To quell any suggestion that First Baptist Church members who hold city jobs are allowed to conduct church business on city time.
The mayor reacted after receiving a report from city auditor Umesh Dalal, the city's internal financial watchdog, that went public with the allegation involving Emmanuel O. Adediran. Mr. Adediran is Richmond's director of public works and a volunteer assistant pastor at First Baptist.
The report alleged that Mr. Adediran may have used 38 hours of city time while serving as project manager for construction of the church's still incomplete satellite building on Iron Bridge Road in Chesterfield County. However, the report did not include any substantial supporting evidence to back up the claim.
In a statement Wednesday afternoon, Selena Cuffee-Glenn, Richmond's chief administrative officer, stated that Mr. Adediran would face punishment to eliminate any questions. He is to lose nearly a week of vacation time, even though he might have done nothing wrong.
Ms. Cuffee-Glenn stated that Mr. Adediran "has assured (the mayor) that he only used personal time for matters unrelated to city business."
"However, out of an abundance of caution, the mayor has instructed me to take appropriate action in an effort to remove any concern," she stated. "(Mr. Adediran) has been directed to relinquish 38 hours of accrued vacation leave.  All parties are in agreement with this action."
Mr. Adediran was not immediately available for comment.
This is the first sign of any potential conflict between the mayor's dual roles since he took office seven years ago.
Mr. Adediran is among a number of First Baptist congregants who hold positions in the city government. Among them is the Rev. Cheryl Ivy Green, who serves as the mayor's executive assistant and also is First Baptist's executive minister for ministries.
Mr. Dalal said he began the investigation after receiving a complaint that Mr. Adediran, then interim public works director, was spending "numerous hours during the city's workday on activities related" to the church's construction project.
Mr. Dalal acknowledged that his investigator could not "verify that the director visited the construction site or attended project-related meetings during (city) business" and found no records to support the claim.
However, "the investigator found that the director participated in conference calls" related to the construction project and "conducted limited communications (related to the church construction) using the city's email system."
As a result, "the investigator estimated that (Mr. Adediran) spent at least 38 hours" on the church project in the 18 months between June 2014, when Mr. Adediran was named interim public works director, and December 2015, when he was named public works director.
The report did not provide any evidence to support the investigator's conclusion.
Mr. Dalal stated that Mr. Adediran defended himself by asserting that he "typically spends well in excess of 40 hours a week conducting city business" and so could not have engaged in "abuse" of his time.
Mr. Dalal notified Ms. Cuffee-Glenn that the "allegation is substantiated" and recommended that the CAO "take appropriate action as deemed necessary."