Stories to inspire a better community being told
7/15/2016, 10:15 a.m.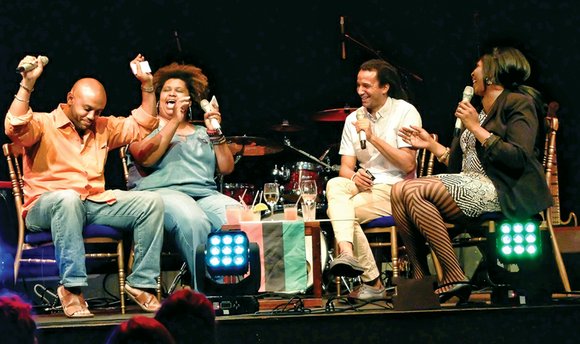 By Leah Hobbs
The Hippodrome Theater in Richmond's historic Jackson Ward was buzzing Saturday evening as 400 people of all ages and races — from young adult hipsters to older city dwellers — mingled with drinks in hand while a DJ rocked the turntables.
They were there for "Secret Stories of Self-Determined Change," a sold-out event organized by UnMonumental in collaboration with Untold RVA and Secretly Y'all.
The UnMonumental series, by public radio producer Kelley Libby, features weekly stories of the lives of people in Richmond. It airs on WVTF/Radio IQ, 92.5 FM online.

Saturday's event was a culmination to celebrate the series as a way for Richmond to remember its past and come together as a community to make the city better.
In light of recent events with the deaths of Alton Sterling in Baton Rouge, La., and Philando Castile in Falcon Heights, Minn., as well as the five officers in Dallas, Ms. Libby addressed the crowd saying, "Community can be self-care."
Ms. Libby's desire is for people to realize that there is more to Richmond than what's at the surface. There is a rich history that will help better develop our future once we understand it.
When affluent people think of Richmond, they refer to breweries, restaurants and the James River, Ms. Libby said. But there is much more to the city, such as Jackson Ward, which once was known as the Harlem of the South.
"There's a need for safe schools," she said. "There's a need to understand how neighborhoods have developed over time that create obstacles to different resources. We must have a voice and an attitude to improve the community. We must have self-determination."
The program began with an introduction by Ron Stallings, owner and president of Walker Row Partnership. Mr. Stallings spearheaded efforts to renovate the Hippodrome Theater and revitalize Jackson Ward.
"These buildings are the mirrored monuments to the people and lives that came before it," he told the crowd. "If you preserve the buildings, you're able to tell the story."
Free Egunfemi, founder of Untold RVA, then invited the audience to honor those who have lost their lives with a round of applause. The sound of hands clapping echoed throughout the theater, as the crowd chanted "No" for the wrongs that have been done and "Yes" for the change they want to see.
After the program, Ms. Egunfemi explained that her purpose in participating was to promote the idea of self-determination, or the Swahili term, kujichagulia. One of her main focuses is the 11:11 Portal Project, which sets up portals in significant areas around the city to honor the achievements of African-Americans who often are forgotten. Through tactical urbanism, she has taken it upon herself to do something about some of the problems she sees in the city, such as preservation and beautification of the African Burial Ground in Shockoe Bottom.
"The city has a lot of people in our history who have done things that were unpopular or not respected. The goal is to encourage people in the city, that we can celebrate what you're doing today," she said. "Realize that you're the ancestors of tomorrow and how you live will inspire others. We have the power to change things collectively if we share our stories," she said.