In the name of Gabriel
Gabriel Week events advance the story of enslaved blacksmith Gabriel and his planned rebellion in August 1800.
Samantha Willis | 8/30/2018, 6 a.m.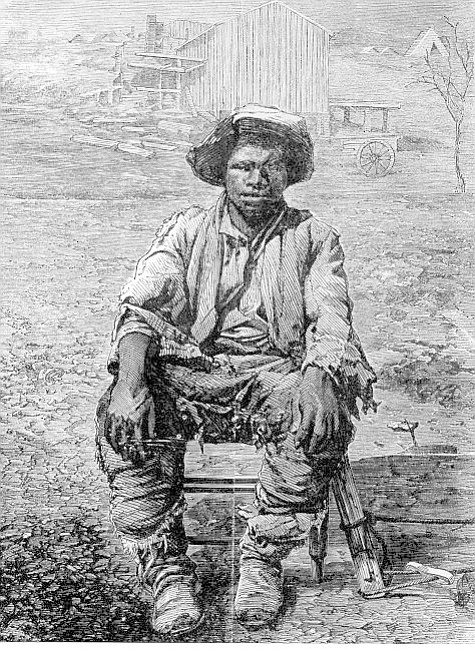 In the first scenes of the 2014 short film, "Tobacco Burn," a tall white man emerges from an old-time tobacco barn, buttoning his britches. Inside, behind the swaying fronds of drying tobacco, a black woman weeps as she adjusts her frock.
That theme of implied violence threads the film, which spotlights the dehumanizing nature of slavery and how some enslaved men and women risked their lives in defiance.
Fittingly, "Tobacco Barn" will be shown Friday, Aug. 31, as part of Gabriel Week, a series of events designed to honor the indomitable spirit of Gabriel, who planned to launch a rebellion in late August 1800 against the system that enslaved him.
Gabriel Week is the creation of Free Egunfemi, a historical strategist and founder of Untold RVA. Ms. Egunfemi, whose work centers on ancestor remembrance, lesser known African-American history and youth-led innovation, said she has been hosting events to pay respects to Gabriel and his mission since 2007.

Owned by Thomas Prosser, blacksmith Gabriel was enslaved on Brookfield Plantation in Henrico County and was just 25 when he strategized a complex insurrection involving a network of dozens of enslaved people spanning several counties. His plan ultimately was thwarted, however, and he was captured in September 1800 and hanged on Oct. 10, 1800, in the area near the African Burial Ground in Richmond's Shockoe Bottom.
Gabriel was pardoned posthumously in 2007 by then-Gov. Tim Kaine.
Ms. Egunfemi doesn't view Gabriel's plan, or the man himself, as a failure.
"I've poured many libations for Brother Gabriel and I used to hold a spiritual ritual every year on Gabriel's hanging day in October," Ms. Egunfemi said. "If he is still inspiring people, then how could he have failed?"
As part of Gabriel Week, the Afrikana Independent Film Festival will present "Tobacco Burn" from 7 to 10 p.m. Friday at Browne Studio, 1100 Hull St. In addition to a cocktail hour and food buffet courtesy of Croaker's Spot, the event will feature a panel discussion after the film, examining "Virginia's untold histories of self determination, intersectionality and resistance," according to the Gabriel Week website.
Like all other Gabriel Week offerings, Friday night's event is free. 
It is no coincidence that Untold RVA is headquartered at Six Points Innovation Center, said Ms. Egunfemi, a community center on Meadowbridge Road in Highland Park her organization has occupied for about a year.
It's "two blocks away from Gabriel's Freedom Park" at 793 Woodcliff Ave., she said. "My ancestors speak to me through the language of bright ideas."
On Thursday, Aug. 30, a celebration of black innovation and commemorative justice inspired by Gabriel will be held at the park from 5 to 9 p.m.
On Saturday, Sept. 1, an event titled Commemorative Justice 101 will examine an exhibition by university of Richmond students detailing Richmond's history of protest and dissent. It will be held from 2 to 4 p.m. at the University of Richmond's Downtown Campus, 626 E. Broad St., Suite 100.
At a community design event at The Valentine on Tuesday, Mayor Levar M. Stoney presented a Gabriel Week proclamation.
Design is a critical part of commemorative justice, Ms. Egunfemi explained. Untold RVA's work, including Gabriel Week, equips young people with the skills to participate in Richmond's creative economy, she said.
"Any self-determined youth effort, and anybody who's supporting young people in the creative economy, I see that as another level of freedom fighting," she said. "We're holding space for them to do that. We want our youth here in the city to hear Gabriel's narrative … and be inspired to do things that have never been done before."
Details: www.untoldrva.com/gabrielweek