Kaine's history readies him for VP role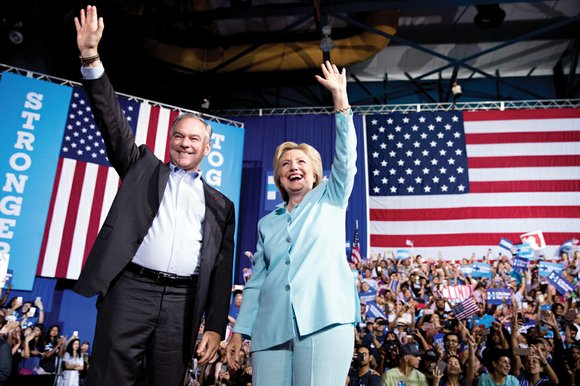 He has been Richmond's mayor, Virginia's governor and a U.S. senator.
Now Sen. Timothy Michael Kaine — whom everyone calls "Tim" — has leaped to the national stage as Democrat Hillary Clinton's running mate.
Wednesday afternoon, the nearly 5,000 delegates to the Democratic National Convention in Philadelphia roared "aye" in nominating by acclimation the 58-year-old Richmond resident to be the vice presidential candidate on the ticket with the first woman ever to receive the presidential nomination of a major party.

If the ticket wins, Sen. Kaine, too, would make history as the first Richmond resident and the third Virginia resident to win the No. 2 executive position — the last being John Tyler who became vice president in 1841 and went on to become the U.S. president after the sudden death of his Charles City County neighbor, William Henry Harrison.

For some seeking a more daring pick, Sen. Kaine is viewed as a bland pragmatist. Despite an 8-0 record of election success since he first ran for Richmond City Council, even he describes himself as "boring."
Mrs. Clinton, though views him as a "relentless optimist" who has "devoted his life to fighting for others" and has the experience to step in as president if needed.
He also has working-class roots and a fluency in Spanish she believes could bolster the Democratic ticket in the contest with Republican rival Donald J. Trump.
Mrs. Clinton's choice, announced via Twitter to supporters last Friday and introduced at a rally in Miami on Saturday, came after she and advisers spent months poring over potential vice presidential candidates who could help her win.
In the end, Mrs. Clinton decided Sen. Kaine, who sits on the Senate Foreign Relations Committee, had the right stuff.
Mrs. Clinton also considered U.S. Secretary of Labor Thomas E. Perez, who would have been the first Latino on a major party ticket; U.S. Sen. Cory Booker of New Jersey, who would have been the first African-American to seek the vice presidency; and U.S. Sen. Elizabeth Warren of Massachusetts, a favorite of the party's left wing.
She stuck with a man with an easy smile and uncovered bald spot who is billed as a pragmatist with progressive goals who she said "gets things done." He also is seen as sharing similar positions with her on many issues and has an interest in policy details. "I do have a fondness for policy wonks," Mrs. Clinton has said.
Just as importantly, Sen. Kaine is known to be personable and likeable, traits that have stood him in good stead throughout his legal and political career and that she is not known for, as her high unfavorable ratings evidence.
The Trump campaign quickly labeled Mrs. Clinton's new running mate "Corrupt Kaine," citing $160,000 in gifts he received during his years as governor and lieutenant governor of Virginia, all of which he had reported and none of which were regarded as a bribe, unlike the hidden gifts his successor, Gov. Bob McDonnell, accepted that led to tougher ethics laws as well as his now thrown-out conviction of selling his office.