Progressive Democrat Sen. Tim Kaine works across the aisle
Reginald Stuart | 10/25/2018, 6 a.m.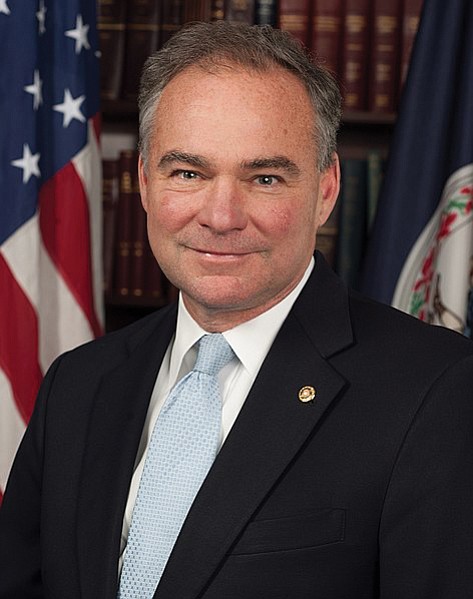 When U.S. Sen. Tim Kaine went head to head in this fall's three senatorial candidate debates, the Democrat repeatedly was credited for keeping his composure despite the political fire being hurled at him by his Republican opponent.
It's nothing new for Sen. Kaine, observers said.
Whether on the neighborhood soccer field as a parental volunteer coach for one of his children years ago, or on today's splinter-laced political trail, Sen. Kaine is known for staying focused on the goal, not altering his rhetoric to make his point and working tirelessly to keep the playing field level and open to as many people as possible.
Sen. Kaine, 60, has drawn on his wealth of wide-ranging public service, starting with working for Legal Aid helping the poor and low-income residents, to serving as a member of Richmond City Council, then mayor of Richmond and later governor of Virginia from 2006 to 2010.
He parlayed that experience into national service as a U.S. senator from Virginia — he has represented the state in Washington since January 2013 — and later as Hillary Clinton's vice presidential running mate in 2016.
"He was positive about a lot of good things for Richmond," said Carolyn M. Lambert, a retired nurse and widow of the late state Sen. Benjamin J. Lambert III, reflecting on Sen. Kaine's work on behalf of the city during much harder times in recent decades.
Today, Mrs. Lambert said, she still sees Sen. Kaine as "very progressive in his thinking, extremely bright, very capable and he knows what the needs are.
"He has been extremely positive and pro-active," she added. "His comments are constructive," she said, echoing thoughts offered by other longtime Kaine constituents.
A Missouri native, Sen. Kaine came to Richmond after Harvard Law School and married Anne Holton, the daughter of former GOP Gov. Linwood Holton and former Richmond juvenile court judge who also served as state Secretary of Education under former Gov. Terry McAuliffe.

Sen. Kaine is a longtime progressive Democrat who has championed moderate and liberal causes in Richmond and the state for years. He has high rankings from liberal and moderate national citizen action groups ranging from the Sierra Club environmental group to the National Abortion Rights Action League, or NARAL, to the Brady Campaign to Prevent Gun Violence.
A longtime booster of career and technical education, Sen. Kaine has campaigned on expanding jobs in Virginia through technical and vocational internships at Virginia shipyards that also would boost the nation's military readiness.
He also has cited legislation he championed that would increase scholarships for students in cybersecurity programs.
While he talks about working across the aisle to get things done, Sen. Kaine has stood up against Republicans efforts to repeal the Affordable Care Act and in voting against the confirmation of Justice Brett M. Kavanaugh to the U.S. Supreme Court.
He also champions a Medicare X plan that would provide a public option, Medicare-like health insurance program for all. He also sponsored legislation that would restore key provisions of the federal Voting Rights Act.
Opponents said Sen. Kaine might be hampered in delivering for Virginians if the November elections keep Republicans in control of Congress.
He has picked up support from established Virginia Republicans. Earlier this month, former U.S. Sen. John Warner, a Republican who also previously served as U.S. secretary of the Navy under former President Nixon, announced strong support for Sen. Kaine.
"Tim's unquestioned integrity and moral character are sorely needed in the Senate a tthis most unusual time in our nation's history," former Sen. Warner said in a statement issued in late September. He underscored his decision by being Sen. Kaine's guest at the Sept. 26 debate against his GOP challenger, Corey Stewart.